Map of Anambra State
Executive Governor
Charles Chukwuma Soludo
Coat of Arms
Official Website: http://www.anambrastate.gov.ng
Population: 4,182,032 (2006 Estimate) Alias: Light of the Nation (formerly Home for All)
Chief Judge:: Justice Peter Umeadi.
Speaker, House of Assembly: Rt Hon. Barr. Rita Maduagwu
LIST OF GOVERNORS OF ANAMBRA STATE
| | | | |
| --- | --- | --- | --- |
| S. No | Name | Took Office | Left Office |
| 1 | John Atom Kpera | March 1976 | July 1978 |
| 2 | Col. Datti Sadiq Abubakar | July 1978 | October 1979 |
| 3 | Jim Nwobodo | October 1979 | October 1983 |
| 4 | Christian Onoh | October 1983 | December 1983 |
| 5 | Allison Madueke | January 1984 | August 1985 |
| 6 | Samson Omeruah | August 1985 | December 1987 |
| 7 | Robert Akonobi | December 1987 | August 1990 |
| 8 | Herbert Eze | August 1990 | August 1991 |
| 9 | Joseph Abulu | August 1991 | January 1992 |
| 10 | Chukwuemeka Ezeife | January 1992 | November 1993 |
| 11 | Dabo Aliyu | November 1993 | December 1993 |
| 12 | Mike Attah | December 1993 | August 1996 |
| 13 | Rufai Garba | August 1996 | August 1998 |
| 14 | Emmanuel Ukaegbu | August 1998 | May 1999 |
| 15 | Chinwoke Mbadinuju | May 1999 | May 2003 |
| 16 | Chris Ngige | May 2003 | March 2006 |
| 17 | Peter Obi | March 2006 | November 2006 |
| 18 | Virginia Etiaba | November 2006 | February 2007 |
| 19 | Peter Obi | February 2007 | March 2014 |
| 20 | Willie Obiano | March 2014 | March 2022 |
| 21 | Charles Soludo | March 2022 | - |
GENERAL INFORMATION
Anambra State was created in 1976 from the then of East Central State by the regime of General Murtala Mohammed with capital at Enugu. A further state creation exercise by the then regime of General Ibrahim Babangida on 27th August 1991 divided Anambra into two states, Anambra and Enugu. The capital of present day Anambra State is Awka.
Anambra state is bounded by Delta and Edo States to the west, Imo and Rivers States to the south, Enugu State to the east and Kogi State to the north. Anambra State derives it's name from Anambra River that traverses the state.
The main towns of Anambra state are Awka, Onitsha, Nnewi, Obosi, Ihiala, Aguata,Uli, Abagana, Alor, Atani, Nkpor, Umuoji, Umunachi, Umudioka, Unubi, Umunya, Umuleri, Aguleri, Oba, Ojoto, Eziowele, Igbukwu, Ichi, Ichida, Oraifite, Ozubulu, Akwaukwu, Uke, Ukpo, Ogidi, Okija, Oraukwu, Otu-ocha, Nnobi, Adazi Nnukwu, Adazi Enu, Adazi Ani, Nanka, Nnewi
ECONOMY
Anambra is rich in natural gas, crude oil, bauxite, ceramics and almost 100 percent arable soil. Most of its natural resources remain largely untapped.
The people are very industrious, and most of the industrial base of the state is private sector driven, spanning from agro-allied, automobile and manufacturing situated mostly in the Nnewi insustrial belt. Onitsha market is reputed to be the bigget in West Africa.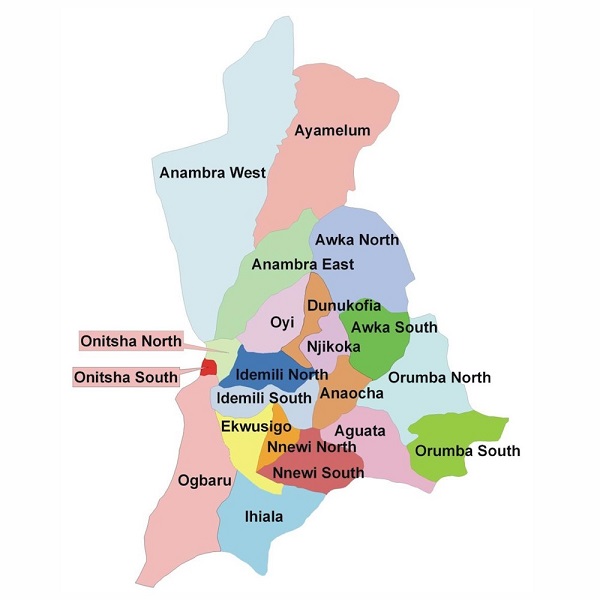 Local Governments
Aguata
Anambra East
Anambra West
Anaocha
Awka North
Awka South
Ayamelum

Dunukofia
Ekwusigo
Idemili North
Idemili south
Ihiala
Njikoka
Nnewi North

Nnewi South
Ogbaru
Onitsha North
Onitsha South
Orumba North
Orumba South
Oyi