Map of Delta State
Executive Governor
Sheriff Oborevwori
Coat of Arms
Official Website: http://www.deltastate.gov.ng
Population: 4,098,391 (2006 Estimate) Alias: The Big Heart
Chief Judge:: Hon. Justice Marshal Umukoro.
Speaker, House of Assembly: Rt. Hon. Peter Onwusanya, Peoples Democratic Party
GENERAL INFORMATION
Delta State was created from the then Bendel State 27th August 1991 by the then regime of General Ibrahim Babangida. Delta State is named after the delta region of the River Niger. It's capital is Asaba.
Warri is the biggest commercial city in the state. Other major towns are Agbor, Ughelli, Oleh, Ozoro, Oghara, Sapele, Koko, Burutu, Okpanam and Ogwashi-ukwu. Delta State can be considered a miniature version of Nigeria, with various ethnic groups.
Delta State shares common boundaries with Edo and Ondo States to the north west, Imo and Anambra to the north east, Rivers and Bayelsa States to the south east. In the south west and south it has approximately 122 kilometres of coastline bounded by the Bight of Benin on the Atlantic ocean.
The Major ethnic groups are Urhobo, Igbo, Ezon, Isoko and Itsekiri. All the ethnic groups claim a common ancestry, consequently, their cultures are similar. These similarities are manifested in their religious folklores, dances, art and crafts and festivals.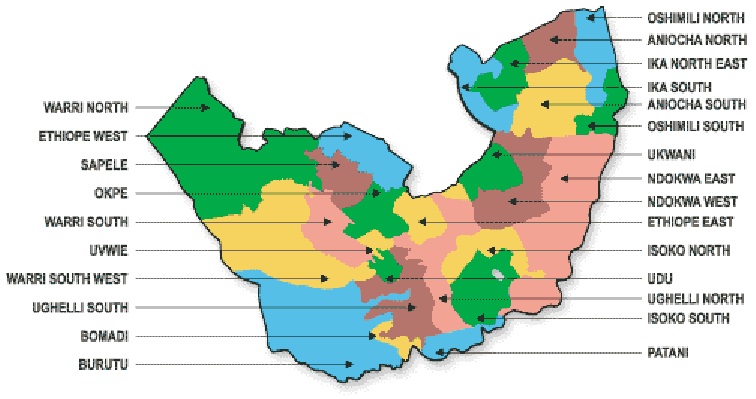 Local Governments
Oshimili
Aniocha
Aniocha South
Ika South
Ika North-East
Ndokwa West
Ndokwa East
Isoko south
Isoko North

Bomadi
Burutu
Ughelli South
Ughelli North
Ethiope West
Ethiope East
Sapele
Okpe

Warri North
Warri South
Uvwie
Udu
Warri Central
Ukwani
Oshimili North
Patani

TOURISM
The state is endowed with a rich cultural heritage. Various kinds of festivals are held in the state. For example the Agbasa Festival celebrated by the Urhobo.
The celebration of traditional festivals are annual community affair throughout Delta State. Almost every village celebrates a traditional festival and this draws both indigenes and non-indigenes to the village. Traditional festivals normally come between March and December every year. These festivals offer occasions for re-union of members of the family, friends and well wishers from far and near. Some of the important festivals celebrated in the State are Adane Okpe, Iyeri, Edjenu, Okere Juju, Ine, Ulor, Ukwata and Ore-Uku.
Delta State boasts of quite a number of hotels for the comfort of visitors. These hotels are located in all major towns in the State. There are standard hotels in the state such as the Palm Royal Hotel in Warri and the River Motel, Abraka.