Map of Edo State
Executive Governor
Godwin Obaseki
Coat of Arms
Official Website: http://www.edostate.gov.ng
Population: 3,218,332 (2006 Estimate) Alias: Heart Beat of Nigeria
Chief Judge:: Justice Esohe Frances Ikponmwen.
Speaker, House of Assembly: Rt. Hon. Marcus Onobun
GENERAL INFORMATION
Edo State was created out of former Bendel state in AUgust 27, 1991 by the then regime of General Ibrahim Babangida. It's capital is Benin City.
Situated in the mid south west of the country, Edo State covers 17,802 square kilometres.
Edo state is home to several ethnicities, among them the Otuo, Bini, Esan, Akoko, Igarra, Ora, Ijo and Afemai. The state is renowned for its proficiency in sports and athletics and a culture of intellectual edification and scholastic excellence.
Edo State shares boundaries with three other states of the federation. It is bounded on the north and the east by Kogi State, on the west by Ondo State and on the south by Delta State. Generally, it is a low-lying area except in the north where it is marked by undulating hills. The main towns in the state are Benin, capital of the ancient Benin kingdom which is also the state capital, Ubiaja, Auchi, Ekpoma and Uromi.
ECONOMY
Edo State is endowed with abundant natural resources. The principal mineral resources include crude oil, natural gas, clay chalk, marbles and limestone .
Agriculture is the predominant occupation of people in this State. The major cash crops produced are rubber, cocoa and palm produce. In addition, the State produces such crops as yams, cassava; rice, plantains, guinea-corn, and assorted types of fruits and vegetables.
Industrial enterprises in the State include Bendel Cement Company, Okpella, Bendel Brewery, Benin City, Bendel Pharmaceutical PLC, Benin City, and Bendel Feed and Flour Mills, Ewu. Other small-scale industries abound.
TOURISM
Tourist attractions span the expanse of the state. Examples are the Emotan statue in Benin city and the Somorika hills in Akoko Edo. Somorika hills consist of an extended expanse of hills crowned by massive boulders perched precariously on the summits of hills and alongside seemingly inadequate locations on the sides.
Edo State has a rich cultural heritage. Benin City, the state capital is famous for its unique bronze, brass and ivory works of arts which are found all over the world in museums.
The Royal Palace of Benin, Benin Museum, Benin Moat (Iya), Emotan Status, Somorika Hills in Akoko-Edo are also tourist attractions. Others are Udo Tourist Centre in Esan East local government area and Okomu Wildlife Sanctuary near Benin City.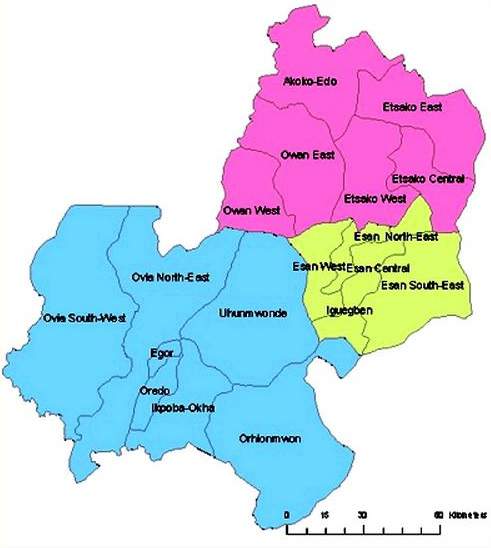 Local Governments
Esan North-East
Esan Central
Esan West
Egor
Ukpoba Central

Etsako Central
Igueben
Oredo
Ovia SouthWest
Ovia South-East

Orhionwon
Uhunmwonde
Etsako East
Esan South-East