Map of Gombe State
Executive Governor
Muhammad Inuwa Yahaya
Coat of Arms
Official Website: http://www.gombestate.gov.ng
Population: 2,353,879 (2006 Estimate) Alias: Jewel in the Savannah
Chief Judge: Justice Beatrice L. Iliya.
Speaker, House of Assembly: Rt. Hon. Abubakar Mohammed Luggerewo
GENERAL INFORMATION
Gombe State was created 1st October 1996 out of Bauchi State by the then regime of General Sani Abacha. It's capital is Gombe.
Situated in north eastern Nigeria, Gombe State occupies 18,768 square kilometres. Gombe State shares boundaries with Yobe State to the North, Adamawa and Taraba States to the South, Borno State to the East, and Bauchi State to the West.
Gombe State comprises many tribal groups among which are Tera, Tangali, Fulani, Bolewa, Waja, Hausa. Hausa is the common language of the people.
ECONOMY
The people of Gombe State are mainly farmers. They produces both food and cash crops. Among its food crops are Yam Cassava, Maize, Tomato, Groundnut, while cottons are produce for each.
These products provides raw material for agro-based industries like the tomato company, cotton ginery, and groundnut oil mill in the state. Other industries are cement industry, furniture and block making industries, and other small scale industries.
Gombe is blessed with natural resources like Uranium, Gypsum, and Limestone.
Recently, Petroleum deposits were reported to have been discovered in the state.
TOURISM
Tourist attractions in the state includes Balanga Dam, Dadunkawa Dam and Babayaro Tomb.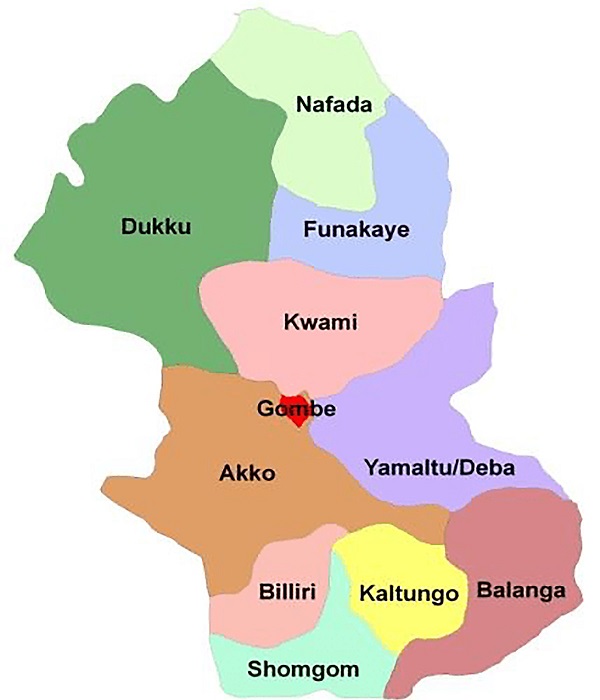 Local Governments
Akko
Balanga
Billiri
Dukku

Kaltungo
Kwami
Shomgom
Funakaye

Gombe
Nafada/Bajoga
Yamaltu/Delta