Map of Imo State
Executive Governor
Hope Uzodinma

Coat of Arms
Official Website: http://www.imostate.gov.ng
Population: 3,934,899 (2006 Estimate) Alias: Eastern Heartland (formerly Land of Hope)
Chief Judge:: Justice Ijeoma Agugua.
Speaker, House of Assembly: Rt. Hon. Ugonna Ozurigbo
GENERAL INFORMATION
Imo State was created on February 3, 1976 out of the old East Central State by the then regime of General Murtala Mohammed. Abia State was carved out of Imo State in the state creation exercise of 1991. It has Owerri as it capital and largest city. Other major towns are Okigwe, Oguta, Nkwerre, Orlu, Mbaise, Mbano, Mbieri, Ideato, Awo-Idemili, Ohaji, Obowo, Ngor-Okpuala, Uzoagba, Emekuku, Orodo, Mgbidi.
Situated in south eastern Nigeria, Imo State covers an area of 5,530 square kilometres. Imo State shares boundaries with Enugu and Ebonyi States to the north, Anambra State to the west, Rivers State to the south and in the North and Rivers State to the South, Cross River and ImoStates to the east.
The inhabitants of Imo State are Igbo. The official language of the state is Igbo alongside English. Imo State has a rich cultural heritage. This is manifested in dressing, music, dance, festivals, arts and crafts.
Imo State derives its name from Imo River, which takes its course from the Okigwe/Awka upland. It lies within latitudes 4°45'N and 7°15'N, and longitude 6°50'E and 7°25'E. Imo State has many rivers. The main rivers in the state are Imo, Otamiri and Njaba. The major lakes are in Oguta and Abadaba in Obowu local government area.
The main streams draining the state are Imo, Otamiri, Njaba and Orasi rivers, all of which have very few tributaries. With the exception of Imo River, which runs through the area underlain by the Imo Shales, other rivers rise within the coastal plain sands. Generally, river valleys constitute the major physical features, which are often marshy.
The vegetation is tropical rain forest.
Imo State indigenes are predominantly Christians of different denominations, but mostly Catholicism. Some people in the state still practice traditional religions.
TOURISM
There are many traditional festivals observed in the State. Each community has different festivals celebrated in honor of ancient deities or to mark an important event in the history of the area. There are different festivals to usher in the harvest season, the most popular being the Ahiajoku Festival, which is observed in all the farming communities.Traditional music and dances include Abiigbo, Ekpe, Ikoro, Okonko, Mmanwu, etc.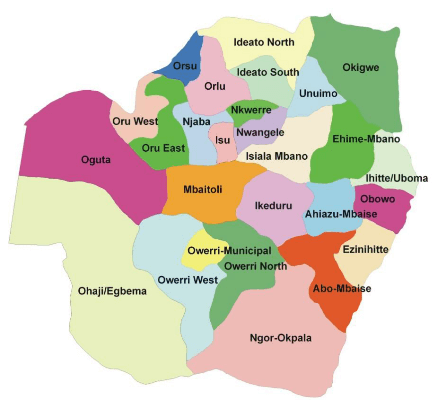 Local Governments
Aboh-Mbaise
Ahiazu-Mbaise
Ehime-Mbano
Ezinihitte
Ideato North
Ideato South
Ihitte/Uboma
Ikeduru
Isiala Mbano

Isu
Mbaitoli
Ngor-Okpala
Njaba
Nwangele
Nkwerre
Obowo
Oguta
Ohaji/Egbema

Okigwe
Orlu
Orsu
Oru East
Oru West
Owerri-Municipal
Owerri North
Owerri West