Map of Lagos State
Executive Governor
Babajide Olusola Sanwo-Olu
Coat of Arms
Official Website: http://www.lagosstate.gov.ng
Population: 9,013,534** (2006 Estimate) Alias: Centre of Excellence
Chief Judge: Oluwafunmilayo Olajumoke Atilade
Speaker, House of Assembly: Rt. Hon. Mudashiru Obasa
GENERAL INFORMATION
Lagos State was created out of the former western region by the then regime of General Yakubu Gowon. It's capital is Ikeja. Prior to this, Lagos Municipality had been administered by the Federal Government through the Federal Ministry of Lagos Affairs as the regional authority, while the Lagos City Council (LCC) governed the City of Lagos. Equally, the metropolitan areas (Colony Province) of Ikeja, Agege, Mushin, Ikorodu, Epe and Badagry were administered by the Western Region.
Located in the south-western part of Nigeria, Lagos State occupies 3,345 square kilometres. It shares boundaries with Ogun State both in the North and East and is bounded on the west by the Republic of Benin. In the South it stretches for 180 kilometres along the coast of the Atlantic Ocean. The smallest State in the Federation, it occupies an area of 3,345 square kilometres, 22% or 787sq. km of which consists of lagoons and creeks
The State took off as an administrative entity on April 11, 1968 with Lagos Island serving the dual role of being the State and Federal Capital.
However, with the creation of the Federal Capital Territory of Abuja in 1976, Lagos ceased to be the capital of the State which was moved to Ikeja. Equally, with the formal relocation of the seat of the Federal Government to Abuja on 12 December 1991, Lagos ceased to be Nigeria's political capital.
Nevertheless, Lagos remains the nation's economic and commercial capital.
Lagos State is inhabited by the Aworis and Ogus in Ikeja and Badagry Divisions respectively, with the Ogus being found mainly in Badagry.
While the indigenous population of Lagos are Aworis, there is, nevertheless, an admixture of other pioneer immigrant settlers collectively called Lagosians but more appropriately the Ekos.
The indigenes of Ikorodu and Epe Divisions are mainly the Ijebus with pockets of Ek-o-Awori settlers along the coastland and riverine areas.
While the State is essentially a Yoruba speaking environment, it is nevertheless a socio-cultural melting pot attracting both Nigerians and foreigners alike.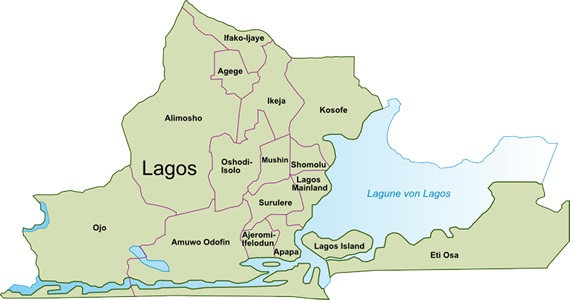 Local Governments
Agege
Ajeromi-Ifelodun
Alimosho
Amuwo-Odofin
Apapa
Badagry
Epe

Eti-Osa
Ibeju/Lekki
Ifako-Ijaye
Ikeja
Ikorodu
Kosofe
Lagos Island

Lagos Mainland
Mushin
Ojo
Oshodi-Isolo
Shomolu
Surulere