Map of Ogun State
Executive Governor
Dapo Abiodun
Coat of Arms
Official Website: http://www.ogunstate.gov.ng
Population: 3,728,098 (2006 Estimate) Alias: Gateway State
Chief Judge:: Hon. Justice Olatokunbo Olopade, CON, KJW.
Speaker, House of Assembly: Rt. Hon. Suraj Adekunbi, All Progressives Congress
GENERAL INFORMATION
Ogun State was created from the old Western State on February 3, 1976 by the then regime of General Murtala Mohammed. It has Abeokuta as it's capital and largest city.
Located in SOuth Western Nigeria, Ogun State covers 16,762 square kilometres. It borders Lagos State to the south, Oyo and Osun states to the North, Ondo State to the east and the Republic of Benin to the west.
Ogun State thus has the highest number of registered universities in Nigeria (nine in all) with five new private universities also in the state.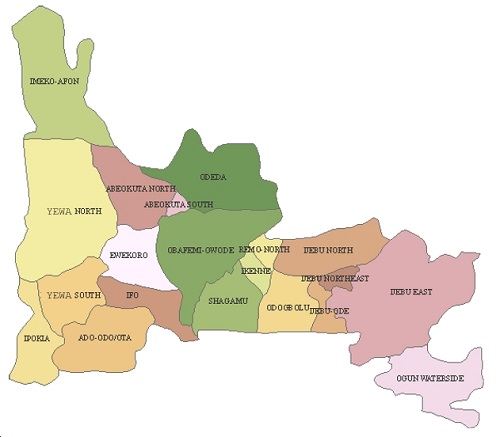 Local Governments
Abeokuta North
Abeokuta South
Ado-Odo/Ota
Egbado North
Egbado South
Ewekoro
Ifo

Ijebu East
Ijebu North
Ijebu North East
Ijebu Ode
Ikenne
Imeko-Afon
Ipokia

Obafemi-Owode
Ogun Waterside
Odeda
Odogbolu
Remo North
Shagamu

ECONOMY
Its natural resources include an extensive fertile soil suitable for agriculture and mineral deposits. The climate and soil of the state are suitable for the cultivation of a wide range of crops. The major food crops include rice, maize, cassava, yam and banana. The main cash crops include cocoa, kolanut, rubber, palm oil and palm kernels. Ogun State is one of the largest producers of kolanut in the country. It also produces timber and rubber on a large scale. About 20% of its total area is constituted of forest reserve suitable for livestock.
The State has enormous industrial potentials. Its natural resources, manpower and geographical proximity to Lagos makes it a potential industrial zone to the nation. Its extensive limestone deposit according to scientists can last for some five hundred years. The multi-million naira cement factory in Sagamu is the largest cement factory in West Africa. Both this factory and Ewekoro Cement factory depend on the local lime stone resources for raw materials. Other mineral resources available include chalk, phosphate, high quality stones and gravels for construction works.
There are also other modern industries producing high quality beer, bicycle tyres, ceramic goods, high quality clay bricks, carpet and clothing materials.