Map of Ondo State
Executive Governor
Rotimi Akeredolu (SAN)
Coat of Arms
Official Website: http://www.ondostate.gov.ng
Population: 3,441,024 (2006 Estimate) Alias: Sunshine State
Chief Judge:: Justice Olubunmi Olateru Olagbegi.
Speaker, House of Assembly: Rt. Hon. Bamidele Oleyelogun
GENERAL INFORMATION
Ondo State was created on 3 February 1976 from the former Western State by the then regime of General Murtala Mohammed. It originally included what is now Ekiti State, which was split off in the state creation exercise of 1996. Akure is the state capital.
Located in SOuth Western Nigeria, Ondo State covers 14,606 square kilometres. Ondo State is bounded in the East by Edo and Delta States, in the North by Ekiti and Kogi States, in the West by Osun and Ogun States and in the South by the Atlantic Ocean.
The ethnic composition of Ondo State is largely from the Yoruba subgroups of the Akoko, Akur?, Ikare, Ilaj?, Ondo, Owo, Arogbos and Akpois who are Ijaw extraction and are mostly located in the riverine areas of the state.
Ondo State contains the largest number of public schools in Nigeria - over 880 primary schools and 190 secondary schools.
ECONOMY
Agriculture (including fishing) constitute the main occupation of the people of the state. Indeed, Ondo state is the leading cocoa producing state in Nigeria. Other agricultural products include yams, cassava and palm produce.
Major industries in Ondo State include Nigeria/Romania Wood Industries in Ondo, the Okitipupa Oil Palm Mill, Alpha Industries, Arigidi-Akoko, Cocoa Processing factory, Ile-Oluji, Oluwa Glass Company, Igbokoda and the Premier Metal Industry, Ondo.
TOURISM
Places of attraction in the state include the Ipole-Iloro Water falls, the Oke Maria at Oka-Akoko and the Aiyetoro Community Island.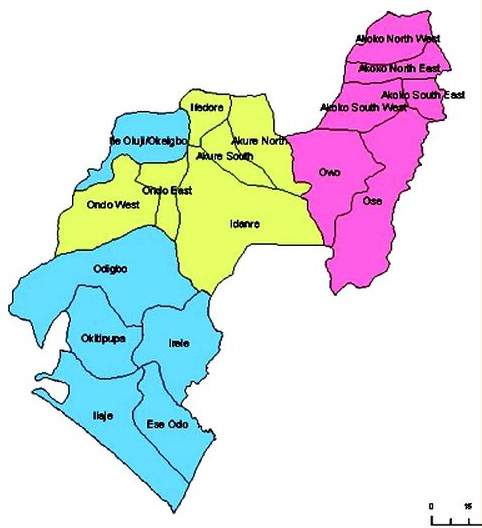 Local Governments
Akoko North East
Akoko North West
Akoko South Akure East
Akoko South West
Akure North
Akure South
Ese-Odo

Idanre
Ifedore
Ilaje
Ile-Oluji
Okeigbo
Irele

Odigbo
Okitipupa
Ondo East
Ondo West
Ose
Owo