Map of Rivers State
Executive Governor
Siminalayi Fubara
Coat of Arms
Official Website: http://www.riversstate.gov.ng
Population: 5,185,400 (2006 Estimate) Alias: Treasure Base of the Nation
Chief Judge: Justice Adama Iye Iyayi Lamikanra
Speaker, House of Assembly: Rt. Hon. Ikuinyi-Owaji Ibani : People's Democratic Party. (PDP)
GENERAL INFORMATION
Rivers State was created out of the former Eastern Region on 27th May 1967 by the then regime of General Yakubu Gowon. Bayels State was carved out of it in the state creation excercise of 1996. It's capital and biggest city is Port Harcourt.
Located in Southern Nigeria, in the Rivers region, Rivers State covers 11,077 square kilometres. The inland part of Rivers state consists of tropical rainforest; towards the coast the typical river Rivers environment features many mangrove swamps. Rivers state was part of the Oil Rivers Protectorate from 1885 till 1893, when it became part of the Niger Coast Protectorate. In 1900 the region was merged with the chartered territories of the Royal Niger Company to form the colony of Southern Nigeria.
Rivers State is bounded on the South by the Atlantic Ocean, to the North by the Anambra, Imo and Abia States, to the East by Akwa Ibom State and to the West by the Bayelsa and Rivers States.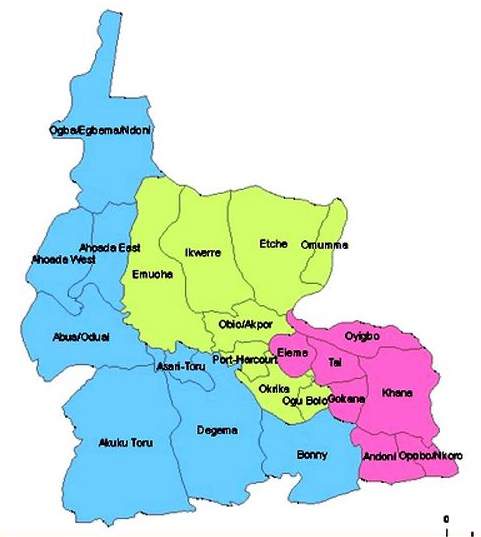 Local Governments
Abua/Odual
Ahoada East
Ahoada West
Akuku Toru
Andoni
Asari-Toru
Bonny
Degema

Emohua
Eleme
Etche
Gokana
Ikwerre
Khana
Obia/Akpor
Ogba/Egbema/Ndoni

Ogu/Bolo
Okrika
Omumma
Opobo/Nkoro
Oyigbo
Port-Harcourt
Tai