Map of Yobe State
Executive Governor
Mai-Mala Buni
Coat of Arms
Official Website: http://www.yobestate.gov.ng
Population: 2,321,591 (2006 Estimate) Alias: Pride of the Sahel
Chief Judge:: Justice Gumna Kashim Kaigama
Speaker, House of Assembly: Rt. Hon. Ahmed Lawan Mirwa
GENERAL INFORMATION
Yobe State was carved out of Borno State on August 27, 1991 by the then regime of General Ibrahim Babangida. It's capital is Damaturu.
Situated in the North Eastern flank of Nigeria, Yobe State occupies 45,502 square kilometres.
Yobe State shares borders with Borno State to the east, Gombe State to the south, Bauchi and Jigawa States to the East and Niger Republic to the north.
Yobe state lies mainly in the dry savanna belt, hence the state is dry and hot for most the year except in the southern part of the state which has a milder climate.
The state is dominated by the Kanuri ethnic group, and is an example of the endurance of traditional political institutions in some areas of Africa. There, the emirs of the former Kanem-Bornu Empire have played a part in the politics of this area for nearly 1000 years.
ECONOMY
It is noted for agricultural production as farming, fishing and livestock rearing provides employment to over 80% of the states population.
While Yobe state is an agricultural state it also has rich fishing grounds and mineral deposits of gypsum, kaolin, and quartz. The state's agricultural products include: gum arabic, groundnuts, beans, cotton. The state is also said to have one of the largest cattle markets in West Africa located in Potiskum.
Yobe State also has mineral deposits of gypsum, kaolin, and quartz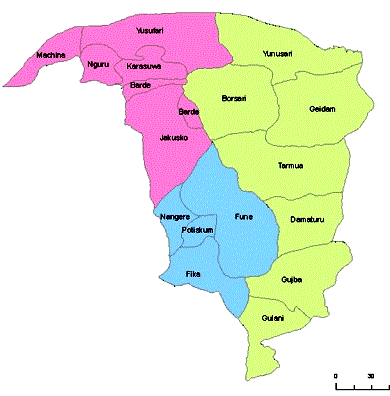 Local Governments
Bade
Bursari
Damaturu
Fika
Fune
Geidam

Gujba
Gulani
Jakusko
Karasuwa
Karawa
Machina

Nangere
Nguru Potiskum
Tarmua
Yunusari
Yusufari