Map of Zamfara State
Executive Governor
Dauda lawal
Coat of Arms
Official Website: https://zamfara.gov.ng/
Population: 3,259,846 (2006 Estimate) Alias: Farming is Our Pride
Chief Judge:: Justice Kulu Aliyu Gusau
Speaker, House of Assembly: Rt. Hon. Nasiru Mu'azu Magarya
GENERAL INFORMATION
Zamfara State was carved out of Sokoto State on October 1, 1996 by the then regime of General Sani Abacha. It's capital is Gusau.
Situated in the North Western flank of Nigeria, Zamfara State occupies 39,762 square kilometres. Zamfara State shares borders with Sokoto State and Niger Republic to the north, Katsina State to the east and Kaduna, Niger and Kebbi States to the south.
It's major towns are Kaura-Namoda, Anka, Talata-Marafa, Zugu. The state was the first in Nigeria to introduce the Sharia law.
ECONOMY
The state is basically an agricultural state with over 80 percent of the people engaged in various forms of agriculture. Major agricultural products include millet, guinea corn, maize, rice, groundnut, cotton, tobacco and beans.
To harness these products and industrialise the state, government has made it a cardinal policy to encourage entrepreneurs both foreign and indigenous to invest in the State especially in the manufacturing sector.
Industrial concerns exist in the state and these include a modern bakery in Gusau, Gusau Oil Mill, which is the first vegetable oil mill in Nigeria to extract oil from cotton seeds, Zamfara Textile Industries Limited, Gusau and the Gusau Sweets Factory and the Cotton Gingery at Gusau. The people of Zamfara State also engage in' the weaving and telling of locally dyed and designed materials and other kinds of woven products, often made from date - palm raffia.
TOURISM
Zamfara State holds some tourist attractions which are of historical or religious importance. These include Jata, an ancient settlement of Zamfara located around the hill with a large cave around where traditional practices were performed.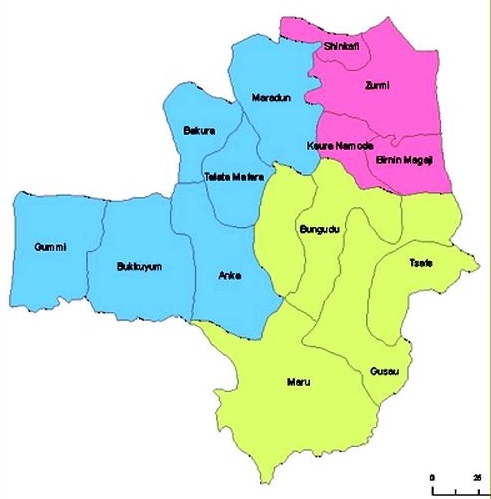 Local Governments
Anka
Bakura
Birnin Magaji
Bukkuyum
Bungudu

Gummi
Gusau
Kaura
Namoda
Maradun

Maru
Shinkafi
Talata Mafara
Tsafe
Zurmi