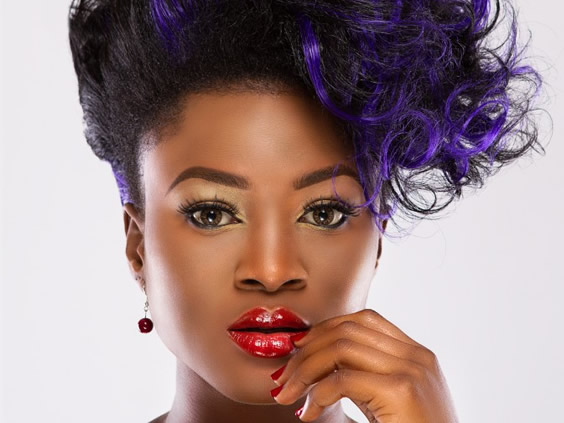 Full Name:
Elohor Eva Alordiah.
Stage Name:
Eva
State of Origin:
Lagos State.
Date of Birth:
13 August 1989.

Nationality:
Nigerian
Residence:
Lagos
Languages:
English.
Years active:
2008 – present.
Occupation:
Recording Artist, Entertainer, Make-up artist, Fashion designer.
Genres:
Hip-Hop reggae.
Twitter:
@EvaAlordiah
Website
www.evaafterdark.com
Eva Elohor Alordiah, born August 13, 1989 Known by her stage name Eva is a Nigerian Rapper/Entertainer, Fine Artist specialising in Makeup artistry and an Entrepreneur. She is one of the most talked about Female rappers in Africa, Winning several awards amongst many nominations. Her 2011 compilation 'the G.I.G.O EP' which was released as a Free download project received great reviews from the fans and critics alike, helping the young Eva stake her spot as the best Female rapper out of Africa.
In 2011 and 2012 consecutively she won the award for 'Best Female Artist, Rap' at the Exquisite Lady of the Year Awards, winning 'Most Promising Act to Watch' at the 2012 Nigeria Entertainment Awards, along with a nomination as 'Next Rated' at Nigeria's most rated Music Awards show, the 'Headies'.
As a Fine artist exploring her skills in Makeup and Fashion, Eva Alordiah is the Founder and Creative Director of her own Makeup company in Nigeria, makeupByOrsela Lagos. She is also famously known for her inspiring and dedicated drive as a Teacher of the arts, creating opportunities for young women to join the Makeup field though her own Makeup school.
Early Life: eva 3Eva Alordiah was born to Nigerian parents from Delta State. Her introduction to music was thanks to her Mother who listened to a wide range of music from the 70's and 80's. Although the young Eva did not consider herself a musician/artiste to be as a child, she found solace on the stages at church, school and everywhere else that afforded her an opportunity to entertain.
Inspired by several Michael Jackson performances on tape, music from Bob Marley, Sade Adu, the Carpenters, John Lennon and Don Williams, Eva found a growing need to be on stage. Her diversity in choice of music expanded as she became a teenager and began to listen to Hiphop/Rap. She has been quoted as saying in an interview that Eminem is the real reason she chose Rap music. After listening to 'Cleaning out my Closet' by Eminem in 2002, her love for HipHop/Rap blossomed into a relationship that would ultimately become a successful career path for Eva.
At age 7 Eva dabbled into several forms of art that engaged her childlike innocence. She began to sing in her church choir, take up acting in the Drama groups in school, she found a genuine love for drawing with the pencil, and her admiration od books took high mountain climb that would ultimately change the way she viewed words. All these skills found a way to kick curiosity in Eva as she grew older.
She wrote her first book at age 10, a short story scribbled in her school notes with the intent of becoming a successful author. When she found out about Eminem 2 years after that, her writing would take a different course to her dreams of success, as she began to write Rap verses, her love for words and rhyming pulling her even deeper in the genre. She would however wait a long time before her dreams of becoming a Rap superstar would take flight.
At 16, Eva found herself shuffling school and business as a young Nigerian teenager. With a yearning for something to do to make her own money, feeling independent, Eva began to audition for roles in acting as well as modelling. She's also been quoted as saying she had to sell second-hand clothes in school as a means to make more money. 'I don't come from a typical rich background and school fees for myself and my siblings was enough responsibility to bare for my parents.
I have never been one to ask for more. I figured I could make money without causing trouble and that's what I did. I bought and sold used clothes in school as some point just to prove I could double my personal allowance' Eva began her career as a photography model, taking photos and auditioning for whatever jobs were available at the time as a 16 year old. This along with her acting career would however not meet her expectations and she later had to quit it to go to the University.
Her experiences would later prove not a waste of time as Eva would later go on to evolve her love for drawing and fine arts into Makeup artistry which she was curious about when she worked as a Model. Early Career After studying Computer Science at Bowen University Nigeria, Eva considered it the best time to take on her love for music and make that her career choice. Inspired by M.I Abaga's single at the time 'Safe' off his 'Talk about it' Album, Eva got in the studio with friend and producer 'Tha Suspect' to create what would become the female version for 'Safe'.
With no money for production bills, she recorded her verses over 'Lil Wayne's' instrumental for 'A milli' with Tha Suspect providing supporting vocals for a hook. The song became an instant fan favorite with radios taking a special liking to it. Radio personality 'Teddy Esosa' who was a mentor to Eva at the time helped create a few demos and distributed them locally to media friends who fell for Eva's raw flow. Gaining some needed popularity, Eva featured in songs with Str8buttah, Capital hill music, Show Dem Camp, Tha Suspect to name a few.
Her appearance on Str8buttah's mixtape in 2010 on a track 'Make em say' would go on to provide for Eva her first music video creating for her a TV debut. She would also later appear on the Female version of 'Tha Suspect's song 'I No Send You' stealing the show amongst other female rappers from Nigeria.
Eva's popularity and fan base which had gone on a fast incline would inspire the young Rapper to make more covers and Mistape singles, including the song 'I Stay' over 'Yanni's 'One Man's Dream' instrumental.
Music Career 2011-2013 'The G.I.G.O EP' and the BET HipHop Awards Cypher With no record label to sign Eva on regardless of the hype and work ethic the Talented rapper exuded, Eva took her career as a Rapper into her own hands, taking advantage of the Internet to get her music promoted.
Becoming popular on the internet became her driving force, with an ever increasing fan base that seemed to make Eva believe in herself as a Rapper and Entertainer.
She got busy in the studio, creating a compilation EP of 8 songs she titled 'The G.I.G.O EP' , GIGO standing for Garbage in Garbage out, a computer programming term, affirming that Eva wasn't far from her Computer Science experience. The first single 'I Done Did it' produced by Award winning Producer of the year 'Sossick' became a chart topper, keeping Eva on radio play for several weeks.
With no funds to promote the single, or even shoot a video, she was back to writing and promoting on the internet, taking solace in the fact that the fans appreciated her work. In November 2011, her first project the G.I.G.O EP was released online for free download, becoming a success and surpassing her own expectations. With beats from producers 'Sossick, Tintin and Gray Jon'z, all of whom would go on to keep producing and making music with Eva throughout her career.
Singles off the EP include the MTN Y'ello Top Ten number 1, 'I Done Did it', as well as 'Your Fada' and 'High'. But with a tough industry for the music business, She would however spend a year shuffling between making a decision to quit music or staying on and persevering.
In 2012, she decided to shoot a music video for her song 'High' off the G.I.G.O EP teaming up with Video Director 'Mex'. They would go on the create a career changing Visual for Eva, lifting inspiration from Eva's ideas and creating a music video absolutely different from the norm. The video Premiered on MTV Base in May 2012.
This would raise the bar even higher, placing Eva as Nigeria's number 1 female rapper. The media was buzzing again and the Video peaked at the local charts on TV. She would later be nominated in the Next Rated category at the Headies 2012. Also winning the Awards 'Most Promising Act to Watch' at the Nigeria Entertainment Awards, 'Best Rap Single, Female' at the YEMA Awards. She also won 'Best Female Artiste, Rap' at the Exquisite Lady of the Year' Awards in 2011 and 2012.
ebeneIn the same year, she graced the covers of Top Fashion and Music magazines including Complete Fashion magazine, FAB magazine, MyStreetz Magazine, amongst others. She was hailed the new Queen of Hair by Ebene Magazine, Paris, as she made the cover in 2012. It seemed perhaps the stars had finally aligned for Eva as she also received a call from Trybe Records boss and artiste, 'Eldee the Don' who would go on to sign Eva to its label amongst 7 other artistes.
But less than 5months after the announcement of having Eva on the Label, the young female rapper walked out on the contract as it failed to provide anything as stated. The media was buzzing again and critics wondered if Eva really had a stake at becoming Nigeria's top Female rapper at best. After her exit from Nigerian record label Trybe Records in October 2012, Eva took a break from the music scene, spending this time to reflect on what she really wanted as an artiste.
She would later spend over 8 months in and out of the studio creating music for her debut album as well as features with other artistes. In February 2013, Hooking up with Long time friend and producer Sossick, Eva released the song 'Mercy' on her own terms.
Mercy would do for Eva just enough to let the fans know she was still working as an artiste, but not so much for an overall promotion of the rapper. The fans were however delighted to have her release music as Mercy picked up momentum on radio play. In August 2013, she signed a Management contract with Radioactiiv, having them handle her music promotions, publicity and bookings. This was a much comfortable type of arrangement for the young rapper, letting her explore her creativity as an artiste and stretching it enough without hindrances.
Even without so much to keep her buzzing on the scene, Eva was still very much in demand. Her image and persona kept her on the red carpet, on the stage performing and in the media.
In June 2013, she was contracted by Nokia Nigeria to represent as a Celebrity judge in the annual 'Nokia Don't break the Beat Competition'. In an interview with Big Tyme on Rhythm FM 93.7 Lagos, Eva revealed she had been working on her debut album and already had a line up of singles to be released off the yet-to-be titled LP. The first single 'Lights Out' was produced by Gray Jon'z who had worked previously with the rapper on the song High'.
'Lights Out' was released in August 2013 and became an instant radio favorite stacking Eva back on the top charts. A smooth blend of Hiphop and Reggae, Lights Out did for Eva what every artiste with a breakdown like she suffered would wish for -A come back on the scene that was well accepted. Motivated by the hype and attention the single received, Eva contracted Award winning Video director Patrick Elis to shoot the music video which was released in October 2014.
2014, Deaf, BBC One Feature With just a little over 3 months into the success of the video 'Lights Out', Eva premiered the single 'Deaf' which immediately became the talk of every fan and critic. With rap bars and a smooth dynamic delivery and flow reminiscent of Eva's beginnings in Hiphop, 'Deaf' was an instant favorite, climbing to the top of the charts and surpassing the success of all her previous releases.
Clearly not one to be held back drowning in the hype, Eva went to work on the video with Patrick Elis. She stated in an interview that she loved creating visual content and has successfully co-directed all her music videos to date. With the help of her Manager and Patrick Elis the Video director, Eva would create a video for 'Deaf' so dynamic yet powerful for a young girl that the media could not help but appreciate.
Eva was evidently on the roll, quickly putting her past behind and picking up the reigns herself to continue her already interesting journey as a Rapper. Like everyone else BBC One took notice of her talents and had her featured in the BBC freestyle which also featured prominent Nigerian Acts, M.I, 2Face, Wizkid and Iyanya. MTV Base was not left out as Eva was asked to provide vocals for the 'Shuga Series' theme song.
The audio project which featured Burna Boy and Sarkodie would however not be used by MTV Base as planned and was later leaked on music website Notjustok. Eva who had already worked on the song as a solo artist decided to put out her own version of the same song 'Shuga'. Fortunately, 'Shuga' would become for Eva's repertoire an instant hit gaining airplay on radio very quickly.
Eva is currently working on releasing her debut album still yet to be titled, with Tintin, Sossick, Gray Jon'z named as confirmed producers on the project. In April 2014, Eva announced an August release for her album via her twitter page. The fans have become very expectant, with anticipation for the female rapper's debut LP on the rise.
eva 6Eva projects a persona and style that is fierce, edgy and spells out every letter of the word Rockstar. Pulling influences from her favorite Rock bands from the 80s, from Michael Jackson and Madonna, as well as Grace Jones -She has created all by herself an image that speaks volumes for a Young Nigerian girl.
She inspires her female fans with her fiery hairstyles and rockstar appeal, one look after the other. With several colors and cuts finding a home on her head over the years, she has successfully stamped for herself a memorable brand to associate with. Her skills in Makeup artistry and fine arts have found an avenue for exhibition as she is responsible for all her looks in Photos, Appearances and her music Videos.