Drycleaning, Laundry, Tailor Repairs, Carpet & Upholstery Maintenance & Consulting Services
We are a foremost dry-cleaning company in Nigeria with international dry-cleaning experience dating back three generations. Our combination of services does not stop at enhancing our clients physical presentation only, but we go further to assist and preserve our customers entire wardrobes with world-class professional and technical expertise with which we handle garments and other well-priced materials.Patronage of our service in the long run, saves our customers the cost of frequent replacement of their garments.
Our Vision
To be a responsible, one-stop-shop, constantly re-defining service standard while providing world-class fabricare and ancillary solution at competitive prices.
Our Mission
To provide exceptional customer service by being PERFECT (Polite, Efficient, Respectful, Friendly, Enthusiastic, Cheerful, Timely)
To provide high quality service, first time and every time, by thoroughly giving the best attention to all details required to exceed customer expectation (no loss or damage of items)
To be an employer of choice, rewarding excellent performance every way possible
To run a profitable and socially responsible organization, adding value to our stakeholders and the communities in which we operate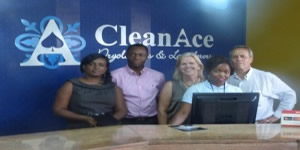 Our Unique Selling Point
We are a foremost dry-cleaning company in Nigeria with international dry-cleaning experience dating back 3 generations. This world-class experience developed over the years puts us in a class way beyond others in the area of technical knowledge and professional handling of garments
We are a one stop shop that offers a variety of services aimed at giving the customer a pristine look – Cobbler Services, Tailor Repairs & Alterations, Carpets & Upholstery Cleaning and other Special Services
We offer value added repairs to garments brought in for cleaning at no cost to the customer
We offer Express Service at no extra cost to our customers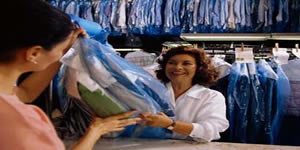 Clean Ace is a one-structure responsible body. A structure that is constantly redefining service standard, and when you are talking of service standard, you are looking at what others hold as the benchmark of the industry.
We always look for opportunities, redefining them, making them better and improving on them. We take care of a lot of things, like shoes, bags, hats, towels, leathers, anything that has to do with fabrics.
One of our mission statements is that we want to be perfect, and service is our guide by the principle of being perfect. By perfect, we mean we want to be polite, efficient, patient, respectful, cheerful and kind in our delivery.
Our quality service is same time and every time. What I mean by this is, we don't want you to return your clothes, that we didn't do it well and you are returning it to be re-done and re-done all over. We want to satisfy first time and every time by giving the best attention to all works, to fulfil the customer's expectation. We have never settled an issue on clothes damage. We try to be professional.