Diabetes
What is Diabetes?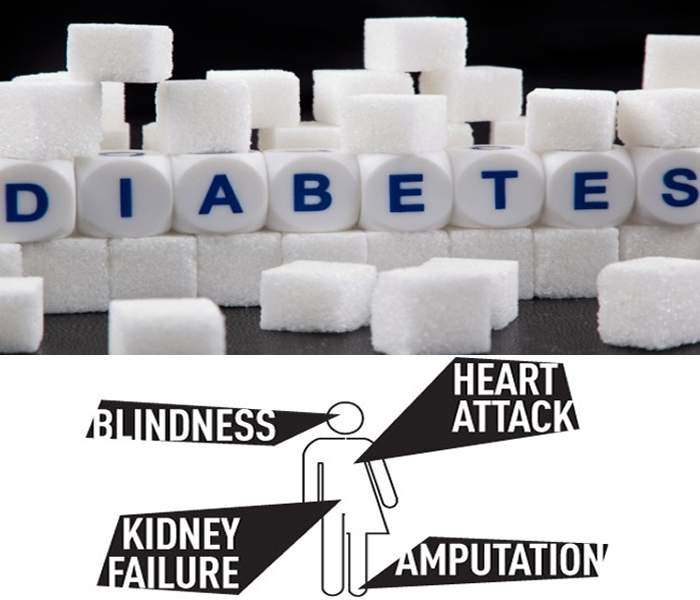 What Is Diabetes Mellitus?
Diabetes is a lifelong condition that causes a person's blood sugar level to become too high. Persons with diabetes have too much sugar in their blood. There is no cure for diabetes. People with diabetes need to manage their disease to stay healthy.
It is a metabolic disease in which the body's inability to produce any or enough insulin causes elevated levels of glucose in the blood.
Persons with diabetes have too much sugar in their blood. This problem can start when a person is young (Type 1 diabetes) or older (Type 2 diabetes). Type 1 diabetes is usually more serious, this can only be control by insulin (drug/Injection).
Diabetes is a serious complex condition which can affect the entire body. Diabetes requires daily self care and if complications develop, diabetes can have a significant impact on quality of life and can reduce life expectancy. While there is currently no cure for diabetes, you can live an enjoyable life by learning about the condition and effectively managing it. It often referred to by doctors as diabetes mellitus.
Types of Diabetes Mellitus
There are three major types of diabetes:
Type 1 diabetes
The body does not produce insulin. Some people may refer to this type as insulin-dependent diabetes, juvenile diabetes, or early-onset diabetes. Type 1 diabetes is usually more serious and young people need a medicine called insulin to control it. This problem can start when a person is young or older
Type 1 diabetes is an auto-immune condition in which the immune system is activated to destroy the cells in the pancreas which produce insulin. We do not know what causes this auto-immune reaction. Type 1 diabetes is not linked to modifiable lifestyle factors. There is no cure and it cannot be prevented.
Occurs when the pancreas does not produce insulin
Represents around 10% of all cases of diabetes and is one of the most common chronic childhood conditions
Onset is usually abrupt and the symptoms obvious
Symptoms can include excessive thirst and urination, unexplained weight loss, weakness and fatigue and blurred vision
Is managed with insulin injections several times a day or the use of an insulin pump.
Type 2 diabetes
The body does not produce enough insulin for proper function, or the cells in the body do not react to insulin (insulin resistance). Most people with diabetes have Type 2, starting after age 40.
The most common form of diabetes is called type 2, or non-insulin dependent diabetes.
This is also called "adult onset" diabetes, since it typically develops after age 35. However, a growing number of younger people are now developing type 2 diabetes. 
People with type 2 are able to produce some of their own insulin. Often, it's not enough. And sometimes, the insulin will try to serve as the "key" to open the body's cells, to allow the glucose to enter. But the key won't work. The cells won't open. This is called insulin resistance. 
Often, type 2 is tied to people who are overweight, with a sedentary lifestyle. 
Treatment focuses on diet and exercise. If blood sugar levels are still high, oral medications are used to help the body use its own insulin more efficiently. In some cases, insulin injections are necessary.
Gestational diabetes/Pregnant Diabetes
This type affects females during pregnancy. Some women have very high levels of glucose in their blood, and their bodies are unable to produce enough insulin to transport all of the glucose into their cells, resulting in progressively rising levels of glucose.
High blood glucose is caused because the mother can't produce enough insulin (a pregnant woman's insulin needs are two to three times that of normal).
There are two reasons why the mother needs more insulin:
Because pregnancy causes certain types of hormones (that are made by the placenta) to be released., These hormones make it harder for insulin to do its job because the growth demands of the foetus (developing baby) increases the mother's need for insulin
Unlike type 1 and type 2 diabetes, gestational diabetes is only temporary and usually disappears after pregnancy. However, a woman who has had gestational diabetes has an increased risk (50-60%) of developing type 2 diabetes in the future; therefore they should be tested for type 2 diabetes each year.
What you need to know about diabetes
Diabetes is a long-term condition that causes high blood sugar levels.
In 2013 it was estimated that over 382 million people throughout the world had diabetes (Williams textbook of endocrinology).
Type 1 Diabetes - the body does not produce insulin. Approximately 10% of all diabetes cases are type 1.
Type 2 Diabetes - the body does not produce enough insulin for proper function. Approximately 90% of all cases of diabetes worldwide are of this type.
Gestational Diabetes - this type affects females during pregnancy.
The most common diabetes symptoms include frequent urination, intense thirst and hunger, weight gain, unusual weight loss, fatigue, cuts and bruises that do not heal, male sexual dysfunction, numbness and tingling in hands and feet.
If you have Type 1 and follow a healthy eating plan, do adequate exercise, and take insulin, you can lead a normal life.
Type 2 patients need to eat healthily, be physically active, and test their blood glucose. They may also need to take oral medication, and/or insulin to control blood glucose levels.
As the risk of cardiovascular disease is much higher for a diabetic, it is crucial that blood pressure and cholesterol levels are monitored regularly.
As smoking might have a serious effect on cardiovascular health, diabetics should stop smoking.
Hypoglycemia - low blood glucose - can have a bad effect on the patient. Hyperglycemia - when blood glucose is too high - can also have a bad effect on the patient.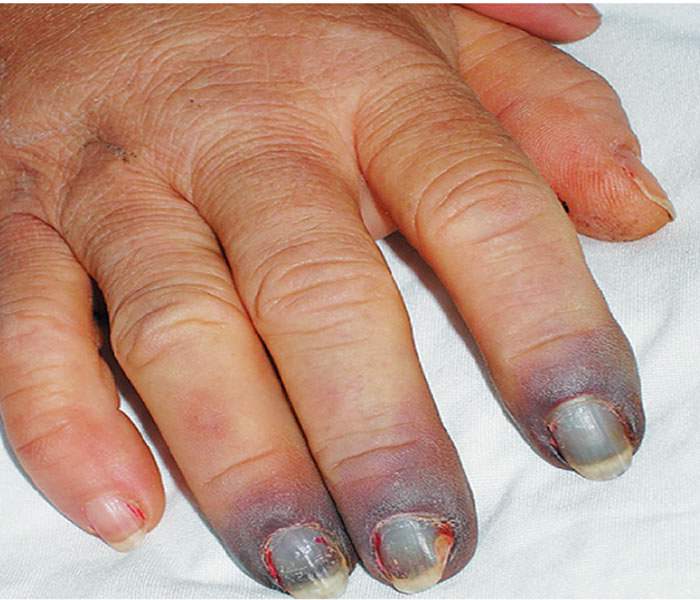 Causes of Diabetes Mellitus
Causes of type 1 diabetes
Heredity plays an important part in determining who is likely to develop type 1 diabetes.
What is known is that your immune system — which normally fights harmful bacteria or viruses attacks and destroys your insulin-producing cells in the pancreas. This leaves you with little or no insulin. Instead of being transported into your cells, sugar builds up in your bloodstream.
Type 1 is thought to be caused by a combination of genetic susceptibility and environmental factors, though exactly what many of those factors are is still unclear.
Causes of type 2 diabetes
In pre-diabetes — which can lead to type 2 diabetes  and in type 2 diabetes, your cells become resistant to the action of insulin, and your pancreas is unable to make enough insulin to overcome this resistance. Instead of moving into your cells where it's needed for energy, sugar builds up in your bloodstream.
Exactly why this happens is uncertain, although it's believed that genetic and environmental factors play a role in the development of type 2 diabetes. Being overweight is strongly linked to the development of type 2 diabetes, but not everyone with type 2 is overweight.
Causes of gestational diabetes
During pregnancy, the placenta produces hormones to sustain your pregnancy. These hormones make your cells more resistant to insulin.
Normally, your pancreas responds by producing enough extra insulin to overcome this resistance. But sometimes your pancreas can't keep up. When this happens, too little glucose gets into your cells and too much stays in your blood, resulting in gestational diabetes.
 Symptoms/Signs of Diabetes Mellitus
Early signs of diabetes: Later, more serious signs:
Always hungry
Always thirsty
Always tired
Frequent vaginal infections
Itchy skin
Loss of consciousness (in extreme cases)
Periods of blurry eyesight
Some loss of feeling in hands or feet
Sores on the feet that do not heal
Urinates (pees) often and a lot
Weight loss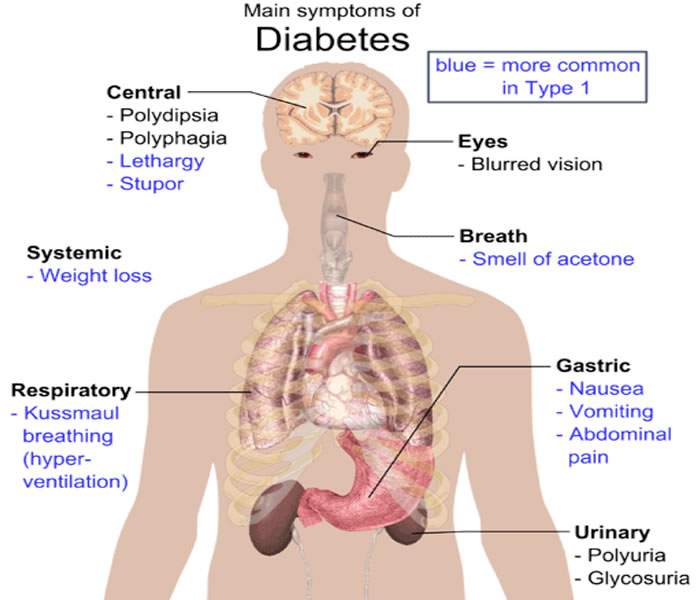 How to diagnose Diabetes Mellitus
In order to find out whether a person has diabetes, test her urine to see if there is sugar in it. Diabetes and pre-diabetes are diagnosed with a fasting plasma glucose test, oral glucose tolerance test, or random plasma glucose test. One way to test the urine is to taste it. If it tastes sweet to you, have 2 other persons taste it. Have them also taste the urine of 3 other people. If everyone agrees that the same person's urine is sweeter, she is probably diabetic.
Another way of testing urine is to use special paper strips (for example, Uristix). If these change color when dipped in the urine, it has sugar in it.
If the person is a child or young adult, he should be seen by an experienced health worker or doctor.
To diagnose GDM
Get tested. During your doctor's visit, you will likely be tested for GDM through an "initial glucose challenge test" and/or a follow-up "glucose tolerance testing."
In the "initial glucose challenge test," you'll be asked to drink a syrupy, sugar solution and then, after an hour has passed, your blood will be tested to measure your sugar levels.
How to Prevent Diabetes
Tips to help you reduce your risk of type 2 diabetes
Type 1 diabetes cannot be prevented. But to some extent Type 2 diabetes can be delayed or prevented by making simple changes in our everyday lives.
In Type 1 diabetes, the body's immune system destroys the insulin-producing cells, but currently the cause remains uncertain.
Tips to help you reduce your risk of type 2 diabetes
Check your risk of diabetes. Take the Life! risk assessment test and learn more about your risk of developing type 2 diabetes. A 12+ score indicates that you are at high risk and may be eligible for the Life! program - a free Victorian lifestyle modification program that helps you reduce your risk of type 2 diabetes and cardiovascular disease, or call 13 RISK (13 7475).
Manage your weight. Excess body fat, particularly if stored around the abdomen, can increase the body's resistance to the hormone insulin. This can lead to type 2 diabetes.
Exercise regularly. Moderate physical activity on most days of the week helps manage weight, reduce blood glucose levels and may also improve blood pressure and cholesterol.
Eat a balanced, healthy diet. Reduce the amount of fat in your diet, especially saturated and trans fats. Eat more fruit, vegetables and high-fibre foods. Cut back on salt.
Limit takeaway and processed foods. 'Convenience meals' are usually high in salt, fat and kilojoules. It's best to cook for yourself using fresh ingredients whenever possible.
Limit your alcohol intake. Too much alcohol can lead to weight gain and may increase your blood pressure and triglyceride levels. Men should have no more than two standard drinks a day and women should have no more than one.
Quit smoking. Smokers are twice as likely to develop diabetes as non-smokers.
Control your blood pressure. Most people can do this with regular exercise, a balanced diet and by keeping a healthy weight. In some cases, you might need medication prescribed by your doctor.
Reduce your risk of cardiovascular disease. Diabetes and cardiovascular disease have many risk factors in common, including obesity and physical inactivity.
See your doctor for regular check-ups. As you get older, it's a good idea to regularly check your blood glucose, blood pressure and blood cholesterol levels.
Tips to help you reduce your risk of GDM
Get a family history. The first step in preventing GDM is determining your risk factors for developing it. If it turns out that you are at high risk, then you and your doctor take steps towards lowering your risk and keeping you and the baby healthy.
Have your blood sugar tested as early as 3 months before you plan to become pregnant in order to establish your baseline levels and to if you fall in a normal range.
Plan to lose any excess weight before pregnancy. Weight loss is not advised during pregnancy, so if you are overweight and concerned about this increasing your risk for GDM, try to lose the extra weight (between 5% to 7% of your body weight if you are overweight) before you become pregnant
Meet with your doctor (gynecology) early on in your pregnancy, and frequently throughout, in order to ensure the health of you and your baby
It is recommended that those at average risk for GDM have a screening performed during their second trimester -- between 24 and 28 weeks.
Let your doctor know that you are particularly concerned about GDM, either because of your family history or other personal risk factors. Ask if they recommend any special diet, exercise, or testing plans for you to follow during your pregnancy.
Eat more fiber. It is important to maintain steady blood sugar levels if you are at risk of gestational diabetes. Fiber will help you stabilize your sugar levels. In a study of the diets of women before they got pregnant, those who increased their daily fiber intake by 10 grams reduced their risk of GDM by 26%. Try to include more high-fiber foods to lower your risk.
Take more of portentous food
Lean meats, such as chicken, are good sources of protein and safe for pregnant women to consume. Avoid fish as a lean protein source, as its high mercury levels can be dangerous for pregnant women
Keep an eye on portion sizes and try to eat several small meals frequently throughout the day to maintain your blood sugar levels.[17] For example, you could eat a 300 to 400 calorie meal once every three hours during the day so that you consume a total of five meals totaling between 1,500 to 2,000 calories.
Take more fresh fruit: Fruits are good for you, but sugary fruit juices should be avoided. Fruits are high in natural sugars which in and of itself is not a bad thing, but one small glass of orange juice can contain the juice of as many as 10 oranges and there may also be added artificial sweeteners.
Exercises Daily. Safe exercises to participate in during pregnancy typically include low impact exercises, such as walking and swimming. Avoid doing any type of exercise that is high impact or that has a higher potential for injuries, such as contact sports.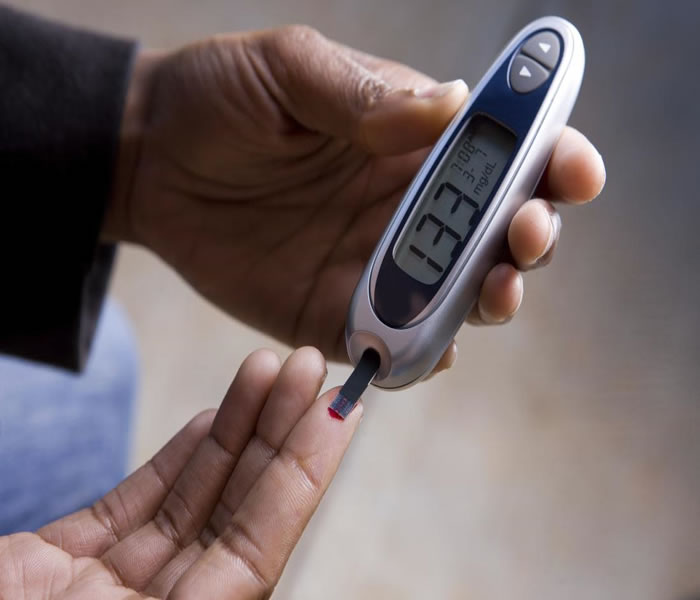 Treatment for Diabetes Mellitus
All types of diabetes are treatable. Diabetes type 1 lasts a lifetime, there is no known cure. Type 2 usually lasts a lifetime; however, some people have managed to get rid of their symptoms without medication, through a combination of exercise, diet and body weight control.
When a person gets diabetes after he is 40 years old, it can often be best controlled without medicines, by eating correctly and getting plenty of exercise. The diabetic person's diet is very important and must be followed carefully for life.
The major goal in treating type 1 and type 2 diabetes is to control blood sugar (glucose) levels within the normal range, with minimal excursions to low or high levels.
Type 1 diabetes (T1D) is treated with:
Type 2 diabetes (T2D) is treated:
First with weight reduction, a type 2 diabetes diet, and exercise
Oral medications are prescribed when these measures fail to control the elevated blood sugars of type 2 diabetes.
If oral medications become ineffective treatment with insulin is initiated.
The diabetic diet: Fat people with diabetes should lose weight until their weight is normal. Diabetics must not eat any sugar or sweets, or foods that taste sweet.
It is important for them to eat lots of fresh vegetables and high fiber foods, such as whole grain breads. But diabetics should also eat some other starchy foods, like beans, rice, and potatoes, and also foods high in protein.
Diabetes in adults can sometimes be helped by drinking the sap of the prickly pear cactus (nopal, Opuntia). To prepare, cut the cactus into small pieces and crush them to squeeze out the liquid. Drink 1 ½ cups of the liquid 3 times each day before meals.
To prevent infection and injury to the skin, clean the teeth after eating, keep the skin clean, and always wear shoes to prevent foot injuries. For poor circulation in the feet (dark color, numbness), rest often with the feet up. Follow the same recommendations as for varicose veins
Diabetes Home Remedies/Home Cure
Whole sum diet: Diet which is a combination of vegetables and fruits get a rich array of antioxidants such as vitamin C. Antioxidants prevents the oxidation and damage of artery walls, which otherwise can lead to plaque build-up and heart disease.
Basil leaves: Basil leaves have power to lower blood sugar levels. Basil leaves contain potent antioxidants that relieve oxidative stress; it's this stress that compounds problems in diabetics.
Bitter Gourd: Bitter gourd, also known as bitter melon, can be helpful for controlling diabetes due to its blood glucose lowering effects. It tends to influence the glucose metabolism all over your body rather than a particular organ or tissue. It helps increase pancreatic insulin secretion and prevents insulin resistance. Thus, bitter gourd is beneficial for both type 1 and type 2 diabetes. However, it cannot be used to entirely replace insulin treatment. Drink some bitter gourd juice on an empty stomach each morning. First remove the seeds of two to three bitter gourds and use a juicer to extract the juice. Add some water and then drink it. Follow this treatment daily in the morning for at least two months.
Also, you can include one dish made of bitter gourd daily in your diet.
Cactus juice and flax seeds: Cactus juice from is also helpful. Cactus juice can help decrease and stabilize blood glucose and insulin levels. Consuming flax seed reduces postprandial sugar level by 28 per cent.
Exercise: Exercise has the potential to control the diabetes by nonmedical means. It reduces the severity of the disease and significantly reduces the risk of long-term complications. The energy needed for exercise can help people to lose weight which helps to take some of the risk related to central obesity. Exercise is known to increase insulin sensitivity which essentially helps to tackle the root cause of type 2 diabetes. Also, regular exercise can also help to reduce cholesterol levels and help people to reduce high blood pressure. Even a little extra activity each day can help.
Moringa leaves: Also called Drumstick, the leaves of this plant are best known for their ability to boost one's energy. In the case of diabetics, the moringa leaf increases satiety and slows the breakdown of food and lower blood pressure.
Tip: Take a few drumstick leaves, wash and crush them to extract their juice. Now take about 1/4th cup of this juice and drink it on an empty stomach, every morning to keep your sugar levels under control.
Green Tea: Unlike other tea leaves, green tea is unfermented and is high in polyphenol content. Polyphenol is a strong antioxidant and hypo-glycaemic compound that helps control the release of blood sugars and helps the body use insulin better. Read more 10 types of flavoured green tea that have 20 health benefits.
Tip: Steep a bag of green tea in hot water for 2-3 minutes. Remove the bag and drink a cup of this tea in the morning or before your meals.
Holy Basil (tulsi) leaves: The leaves of holy basil are packed with antioxidants and essential oils that produce eugenol, methyl eugenol and caryophyllene. Collectively these compounds help the pancreatic beta cells (cells that store and release insulin) to function properly and increase sensitivity to insulin. An added advantage is that the antioxidants present in the leaves help beat the ill effects of oxidative stress.
Indian blackberry (Jamun): A glycoside present in the seeds of Indian blackberry prevents the conversion of starch to sugar. It lowers blood sugar and helps prevent insulin spikes. Jambul also has properties that can protect you from heart diseases and other vascular disorders.
Tip: Eat around 5 – 6 jamuns in the morning to control your blood sugar levels. Alternatively, you can also add a spoonful of jamun seeds powder to a glass of warm water or milk and drink this daily for better control of diabetes.
Leaves of bilberry plant and cinnamon: The leaves of the bilberry plant are known to lower blood sugar levels. Also, 1gram cinnamon in the diet for a month lowers the blood sugar levels
Mango Leaves: The delicate and tender mango leaves can be used to treat diabetes by regulating insulin levels in the blood. They can also help improve blood lipid profiles. Soak 10 to 15 tender mango leaves in a glass of water overnight. In the morning, filter the water and drink it on an empty stomach.
You can also dry the leaves in the shade and grind them. Eat one-half teaspoon of powdered mango leaves two times daily.
Neem: Found abundantly in India, the bitter leaf has a number of amazing medicinal properties. Neem enhances insulin receptor sensitivity, helps improve blood circulation by dilating the blood vessels, lowers blood glucose levels and reduces one's dependence on hypoglycaemic drugs.  Here are more health benefits of neem.
Tip: Drink the juice of the tender shoot of neem leaves on an empty stomach for best results
Meditation: Meditation lowers the insulin resistance in our body. Stress hormones such as cortisol, adrenaline and noradrenalin intensify the production of insulin and glucose levels. Reducing these neurohormones through the Transcendental Meditation technique helps to balance glucose and insulin in the blood. This helps to normalize metabolic syndrome and diabetes.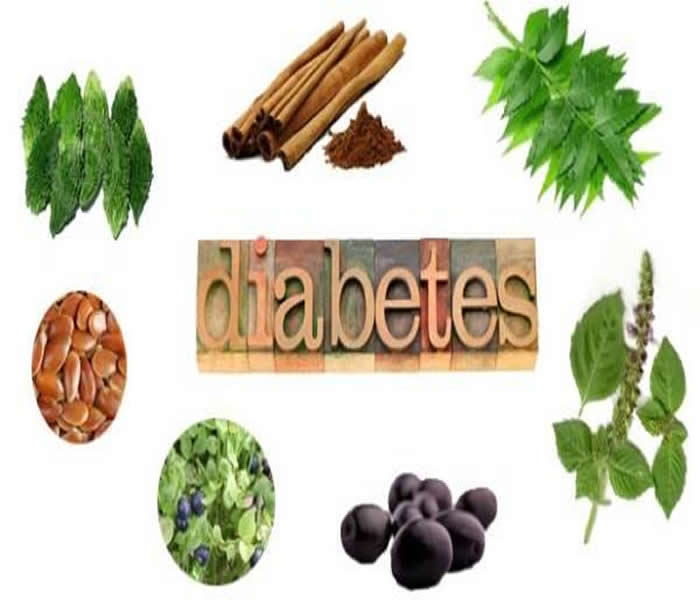 Complications of Diabetes Mellitus
Type 1 Complications
Anxiety
Ear Damage
Eye damage
Fingers, toes, and lips damage
Headache
Heart disease
Seizures
Sleepiness
Slurred speech
Rapid heartbeat
Sweating
Whiteness of skin
Type 2 Complications
By keeping your blood glucose level in a healthy range through meal planning, physical activity, and medications, you can avoid long-term complications of diabetes.
These complications develop over many years and they all relate to how blood glucose levels can affect blood vessels. Over time, high blood glucose can damage the body's blood vessels, both tiny and large.
Damage to your tiny blood vessels causes microvascular complications; damage to your large vessels causes macrovascular complications.
Microvascular Complications: Eye, Kidney, and Nerve Disease
You have small blood vessels that can be damaged by consistently high blood glucose over time. Damaged blood vessels don't deliver blood as well as they should, so that leads to other problems, specifically with the eyes, kidneys, and nerves.
Eyes: Blood glucose levels out of range for a long period of time can cause cataracts and/or retinopathy in the eyes. Both can cause loss of vision.
To avoid eye problems associated with diabetes, keep your blood glucose within range and have yearly eye check-ups that include a dilated eye examination with an eye doctor to monitor your eye health.
Cardiovascular disease: affects the heart and blood vessels and may cause fatal complications such as coronary artery disease (leading to heart attack) and stroke. Cardiovascular disease is the most common cause of death in people with diabetes. High blood pressure, high cholesterol, high blood glucose and other risk factors contribute to increasing the risk of cardiovascular complications.
Kidney disease (diabetic nephropathy): caused by damage to small blood vessels in the kidneys leading to the kidneys becoming less efficient or to fail altogether. Kidney disease is much more common in people with diabetes than in those without diabetes. Maintaining near normal levels of blood glucose and blood pressure can greatly reduce the risk of kidney disease.
Nerve disease (diabetic neuropathy): diabetes can cause damage to the nerves throughout the body when blood glucose and blood pressure are too high. This can lead to problems with digestion, erectile dysfunction, and many other functions. Among the most commonly affected areas are the extremities, in particular the feet. Nerve damage in these areas is called peripheral neuropathy, and can lead to pain, tingling, and loss of feeling. Loss of feeling is particularly important because it can allow injuries to go unnoticed, leading to serious infections and possible amputations. People with diabetes carry a risk of amputation that may be more than 25 times greater than that of people without diabetes. However, with comprehensive management, a large proportion of amputations related to diabetes can be prevented. Even when amputation takes place, the remaining leg and the person's life can be saved by good follow-up care from a multidisciplinary foot team. People with diabetes should regularly examine their feet.
Eye disease (diabetic retinopathy): most people with diabetes will develop some form of eye disease (retinopathy) causing reduced vision or blindness. Consistently high levels of blood glucose, together with high blood pressure and high cholesterol, are the main causes of retinopathy. It can be managed through regular eye checks and keeping glucose and lipid levels at or close to normal.
Pregnancy complications: Women with any type of diabetes during pregnancy risk a number of complications if they do not carefully monitor and manage their condition. To prevent possible organ damage to the fetus, women with type 1 diabetes or type 2 diabetes should achieve target glucose levels before conception. All women with diabetes during pregnancy, type 1, type 2 or gestational should strive for target blood glucose levels throughout to minimize complications. High blood glucose during pregnancy can lead to the foetus putting on excess weight. This can lead to problems in delivery, trauma to the child and mother, and a sudden drop in blood glucose for the child after birth. Children who are exposed for a long time to high blood glucose in the womb are at higher risk of developing diabetes in the future.
Complications of gestational diabetes
Most women who have gestational diabetes deliver healthy babies. However, untreated or uncontrolled blood sugar levels can cause problems for you and your baby.
Complications would affect the mother and the baby and the could cause this for the baby:
Excess growth. Extra glucose can cross the placenta, which triggers your baby's pancreas to make extra insulin. This can cause your baby to grow too large (macrosomia). Very large babies are more likely to require a C-section birth.
Low blood sugar. Sometimes babies of mothers with gestational diabetes develop low blood sugar (hypoglycemia) shortly after birth because their own insulin production is high. Prompt feedings and sometimes an intravenous glucose solution can return the baby's blood sugar level to normal.
 Death: Untreated gestational diabetes can result in a baby's death either before or shortly after birth.
As for the mother complications can include:
Preeclampsia: .This condition is characterized by high blood pressure, excess protein in the urine, and swelling in the legs and feet. Preeclampsia can lead to serious or even life-threatening complications for both mother and baby.
Death: Untreated gestational diabetes can result to death during labour or after birth.