DIARRHEA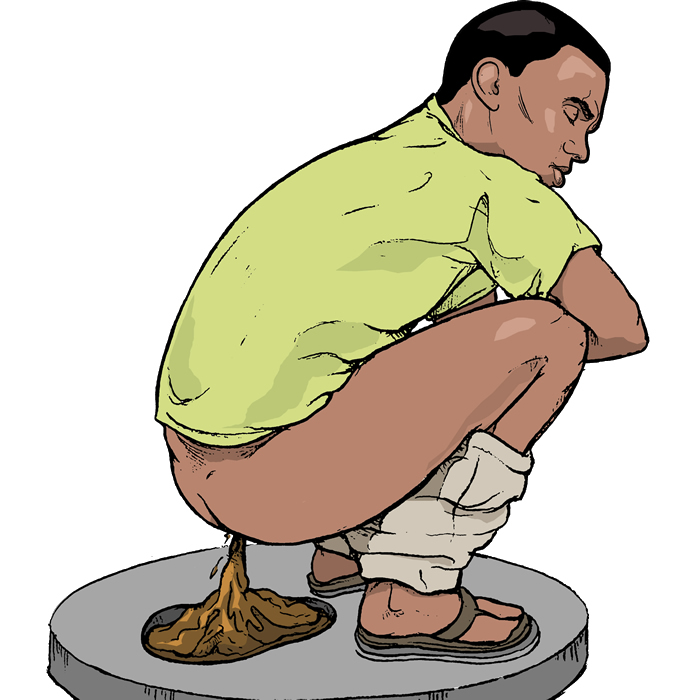 Diarrhea:
Diarrhea is one of the most common illnesses that affect children (Watery Stool). It is an Infection from viruses, bacteria and parasites which are rotavirus, salmonella and giardia respectively. Diarrhea caused by viruses is the most common one, when you have diarrhea, your bowel movements (stools) are loose and watery.
Causes Diarrhea?
Usually, diarrhea is caused by a virus that infects the gut. Some people call it "intestinal flu" or "stomach flu."
It can also happen due to:
Alcohol abuse
Allergiesto certain foods (If body react negatively to a certain food )
Diabetes
Diseases of the intestines (such as Crohn's disease or ulcerative colitis)
Eating foods that upset the digestive system
Infection by bacteria (the cause of most types of food poisoning) or other organisms
Laxative abuse
Medications
Overactive thyroid (hyperthyroidism)
Radiation therapy
Running(Some people get "runner's diarrhea")
Some cancers
Surgery on your digestive system
Trouble absorbing some nutrients (Malabsorption.)
Diarrhea may also follow constipation, especially for people who have irritable bowel syndrome.
Symptoms/Signs Diarrhea are
:
Vomiting
Stomachache
Headache
Fever
Gastroenteritis can last for 5 to14 days. Within this period it is important to prevent fluid loss. Allow the baby to suck breast milk very well or prepare an oral rehydration solution (ORS) which also known as Salt and Sugar solution for the child. Water alone doesn't have enough sodium, potassium, and other nutrients to safely rehydrate very young children. Go to the health centre/hospital to see the doctor let him know the amount of fluids your child has lost and how to replace it with drip. Let him arrange on how your baby would get them, and when to give them.
You may also have:
An urgent feeling that you need to have a bowel movement
Thin or loose stools
Watery stool
Nausea and vomiting
Bloating in your belly
Cramps
Bowel movements (stools) are loose and watery
More serious symptoms include
:
Blood, mucus, or undigested food in the stool
Weight loss
Fever
If you have watery stools more than three times a day and you don't drink enough fluids, you could become dehydrated. That can be dangerous if it's not treated.
How to Prevent Diarrhea
Infectious
Diarrhea
can be prevented.
The most important way to avoid diarrhea is to avoid coming into contact with infectious agents that can cause it. This first thing is
hand washing
and
hygiene
are very important.
Also, if you travel to developing countries, you should take the following precautions:
Avoid eating food from street vendors.
Avoid ice made with tap water.
Be sure that all foods you eat are thoroughly cooked and served steaming hot.
Drink only bottled/ Table water.
Eat only those fruits or vegetables that are cooked or can be peeled.
Never eat raw or undercooked meat or seafood.
How to diagnose diarrhea
Tests and procedures used to determine the cause of your diarrhea which may include:
Blood test. A complete blood count test may help determine what's causing your diarrhea.
Physical exam. You'll have your temperature measured to check for a fever. Your blood pressure and pulse may also be measured to check for signs of dehydration.
Review of your medications. Your doctor may ask about any medications you're taking, including over-the-counter drugs. Also, tell your doctor about any supplements you take.
Stool test. Your doctor may recommend a stool test to determine whether a bacterium or parasite is causing your diarrhea.
When Should I Call My Doctor?
Call your doctor immediately if you have:
Blood in your diarrhea or black, tarry stools
A fever that is high (above 101 F) or that lasts more than 24 hours
Diarrhea lasting longer than 2 days
Nausea or vomiting that prevents you from drinking liquids to replace lost fluids
Severe pain in your belly or rectum
Diarrhea when you come back from overseas travel
Also, call your doctor right away if you have diarrhea and any of these signs of dehydration:
Dark urine
Smaller than usual amounts of urine or fewer wet diapers than usual in a baby or young child
Fast heart rate
Headaches
Dry skin
You feel irritable or confused  
Treatment for Diarrhea
If your case is mild, you may not need to take anything. Or you can take an over-the-counter medicine such as bismuth subsalicylate (Pepto-Bismol, Kaopectate) or loperamide (Imodium) which are available as liquids or tablets. Follow the instructions on the package.
If you have itching, burning, soreness, or pain in your rectal area because you have a lot of bowel movements, try these tips to feel better:
Prepare Oral Rehydration Solutions (ORS), either home made or the one you buy in the phamacy
Take a warm bath. Afterwards, pat the area dry (do not rub) with a clean, soft towel.
Use a hemorrhoid cream or try white petroleum jelly.
How to Prepare Homemade ORS for Adult
Six (6) level teaspoons of Sugar.
Half (1/2) level teaspoon of Salt.
One Litre of clean drinking or boiled water and then cooled - 5 cupfuls (each cup about 200 ml.)
Mix the three items together and drink at least six glass cup in a day, or take at least one cup of the solution each time you (excreate) poo.
Do your best to stay hydrated. You should drink at least six glasses cup of fluid each day.
Choose fruit juice without pulp,soda (without caffeine).
Place 6 teaspoons of sugar into a liter of water.
Place 1/2 teaspoon of salt into the water.
Wait for the particles of the two mixtures to completely dissolve into the water solution.
The ORS drink solution is ready to be consumed by the child.
Let the child that has diarrhea drink at least six glass cup in a day, or take at least one small glass cup of the solution each time you (excreate) poo.
OR
Drink sips of the ORS (or give the ORS solution to the conscious dehydrated person) every 5 minutes until urination becomes normal. (It's normal to urinate four or five times a day.) Adults and large children should drink at least 3 quarts or litres of ORS a day until they are well. If you are vomiting, continue to try to drink the ORS.
Home Remedies
Yogurt
Directions
Yogurt that is not pre flavored will work better against diarrhea. It can be mixed in with fruits like a banana to make it taste better.
Take four table spoons of yogurt twice a day will help improve diarrhea effectively. Add a banana with your yogurt to make it taste better.
Plain White Rice
It is very good to eat it alone when having diarrhea
Directions
The reason why eating plain white rice can be effective is because the rice can help the stools become harder. Eat the white rice without any sauce or other spices. As the diarrhea improves, try eating more and more plain, white rice.
Click here to read Natural Therapy for Diarrhea