EBOLA VIRUS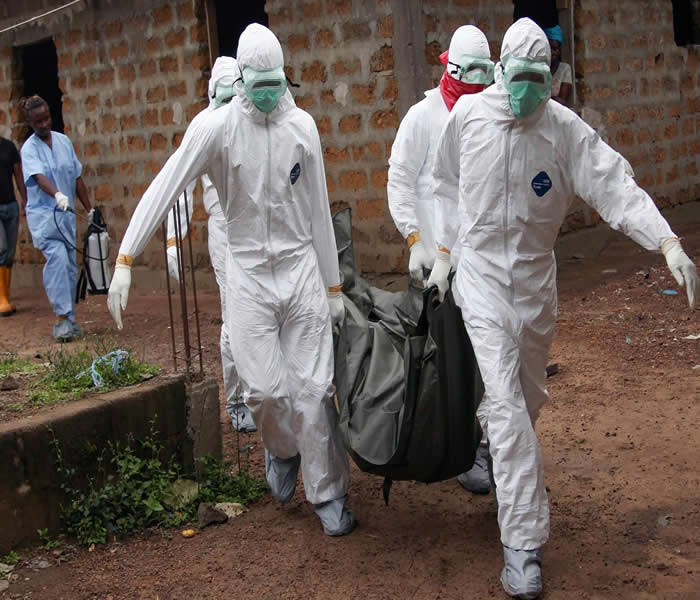 What Is Ebola?
Ebola virus disease is also known as
Ebola hemorrhagic fever
is a rare and deadly disease caused by infection with one of the Ebola virus species. Ebola can cause disease in humans and nonhuman primates (monkeys, gorillas, and chimpanzees).
Ebola hemorrhagic fever is a disease caused by one of five different Ebola viruses. Four of the strains can cause severe illness in humans and animals. The fifth, Reston virus, has caused illness in some animals, but not in humans.
Ebola could be considered moderately contagious, because the virus is not transmitted through the air.
Ebola viruses are found in several African countries. Ebola was first discovered in 1976 near the Ebola River in what is now the Democratic Republic of the Congo. Since then, the current outbreak of the Ebola virus mainly affects four countries in West Africa: Guinea, Liberia, Nigeria and Sierra Leone. Around 27,000 cases and more than 11,000 deaths have been reported by the World Health Organization. This is the largest known outbreak of Ebola.
A person infected with Ebola virus will typically develop a fever, headache, joint and muscle pain.etc
Causes Ebola
The Ebola virus may have initially been transmitted to humans from bats. Derek Gatherer, a bioinformatics researcher at Lancaster University in the United Kingdom, told Live Science that there is a strong circumstantial case that says infection by bats is likely, but scientists haven't actually found strong evidence to support that hypothesis.
Though
WHO
agrees that bats may be carriers of Ebola, the organization says that Ebola was introduced into the human population
through the secretions
,
blood
,
organs or other bodily fluids of many different infected animals
. Other than bats, some of these animals include monkeys, chimpanzees, gorillas, forest antelope and porcupines.
Though
WHO
agrees person-to-person transmission occurs after someone infected with
Ebolavirus
becomes symptomatic. As it can take between 2 and 21 days for symptoms to arise, a person with Ebola may have had contact with hundreds of people, which is why an outbreak can be hard to control and may spread rapidly.
Transmission of Ebola between humans can occur in several ways, including through:
Direct contact through broken skin and mucus membranes with the blood, secretions, organs or other bodily fluids of infected people
Indirect contact with environments contaminated with such fluids
Exposure to objects (such as needles) that have been contaminated with infected secretions
Burial ceremonies in which mourners have direct contact with the body of the deceased person can also play a role in the transmission of Ebola
Exposure to semen of people with Ebola or who have recovered from the disease (the virus can still be transmitted through semen for up to 7 weeks after recovery from illness)
Contact with patients with suspected or confirmed EVD (health care workers have frequently been infected while treating patients).
Other than bats, some of these animals include
monkeys
,
chimpanzees
,
gorillas
,
forest antelope
and
porcupines.
Ebola tends to spread quickly through families and among friends as they are exposed to infectious secretions when caring for an ill individual. The virus can also spread quickly within health care settings for the same reason, highlighting the importance of wearing appropriate protective equipment, such as masks, gowns and gloves.7 Thorough sterilization and proper disposal of needles and syringes in hospitals is important in preventing further infection and halting the spread of an outbreak an outbreak.
Symptoms/Signs of Ebola
The symptoms start suddenly,between two and 21 days after becoming infected.
Weakness

Fever

Aches

Diarrhea

Vomiting

Stomach Pain.

Additional experiences include:


Bleeding (internally and externally)

Chest Pain

Difficulty Breathing

Difficulty Swallowing

Rash

Red Eyes

Throat Soreness

Cases listed below include confirmed World Health Organization
Italy - 1 case, 0 deaths
Guinea - 3,811 cases, 2,543 deaths
Liberia - 10,675 cases, 4,809 deaths
Mali - 8 cases, 6 deaths
Nigeria - 20 cases, 8 deaths
Senegal - 1 case, 0 deaths (infection originated in Guinea)
Sierra Leone - 14,124 cases, 3,956 deaths
Spain - 1 case, 0 deaths
United Kingdom - 1 case, 0 deaths
United States - 4 cases, 1 death (two infections originated in the United States, one in Liberia and one in Guinea)



How to diagnose Ebola
Ebola and Marburg hemorrhagic fevers are difficult to diagnose because early signs and symptoms resemble those of other diseases, such as Lassa fever, malaria and typhoid. If doctors suspect you have Ebola or Marburg viruses, they use blood tests to quickly identify the virus.
How to Prevent Ebola
There is currently no licensed vaccine or treatment for Ebola.If you are in a region where an Ebola outbreak has occurred, take the following precautions.
Avoid direct contact with the body fluids of people with Ebola which include:


Blood
Breast milk
Saliva
Semen
Urine
Vaginal fluid
Vomit

You should also:


Avoid direct contact with bodies of people who have died of Ebola.
Avoid direct contact with medical equipment (like needles) contaminated with blood or the body fluids.

Avoid both live and dead wild animals because they could be potential carriers of Ebola, including:


Chimpanzees
Forest antelope
Fruit bats
Gorillas
Monkeys
Porcupines

If you are a Health Care Worker:


Practice strict infection control measures, including isolating infected individuals and using personal protective equipment properly, including:

Gloves
Goggles
Gowns
Masks

Disinfect or dispose of instruments and equipment properly after treating Ebola patients

Needles should be throw out as disinfection could be dangerous
Scalpels and thermometers should be disinfected.

Treatment for Ebola
There's no cure for Ebola, though researchers are working on it. Treatment includes an experimental serum that destroys infected cells. Doctors manage the symptoms of Ebola with:


Fluids and electrolytes
Oxygen
Blood pressure medication
Blood transfusions
Treatment for other infections

Ebola Home Remedies/Home Cure
There is no home cure for Ebola but you can use these before you get to the hospital
Coffee, fermented soy, homeopathic spider venom and vitamin C, may all hold promise as anti-Ebola virus therapies, despite the common belief that nothing can stop this lethal virus from spreading uncontrollably worldwide.