Epistaxis Nosebleed
What Is Epistaxis (Nosebleed)?
Epistaxis, or bleeding from the nose, is a common complaint.
It is rarely life threatening but may cause significant concern, especially among parents.
Most nosebleeds are benign, self-limiting, and spontaneous, but some can be recurrent. Many uncommon causes are also noted.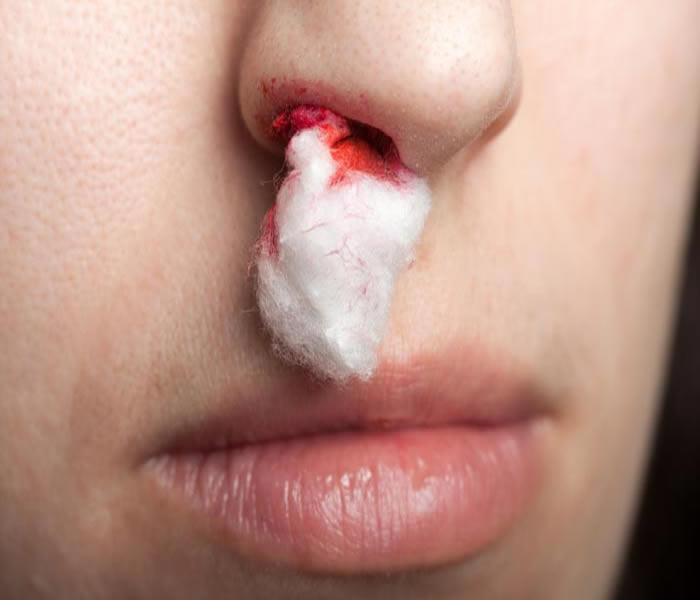 Types of Epistaxis
Anterior bleeds
Posterior bleeds
Anterior haemorrhage - the source of bleeding is visible in about 95% of cases - usually from the nasal septum, particularly Little's area which is where Kiesselbach's plexus forms (an anastomotic network of vessels on the anterior portion of the nasal septum).
Posterior haemorrhage - this emanates from deeper structures of the nose and occurs more commonly in older individuals. Nosebleeds from this area are usually more profuse and have a greater risk of airway compromise.

Causes of Epistaxis (Nosebleed)
Nosebleeds can be caused by :

An injury
Dryness and irritation inside your nose
Vigorously rubbing your nose, or any other kind of physical irritation, or trauma, can also lead to nosebleeds.
Drugs - aspirin and anticoagulants.
Disorders of platelets are more likely to be a problem than clotting factor deficiency.
Abnormalities of blood vessels in the elderly arteriosclerotic vessels prolong bleeding. Hereditary haemorrhagic telangiectasia (Osler-Rendu-Weber syndrome) causes recurrent epistaxis from nasal telangiectases.
Malignancy of the nose may present with bleeding - juvenile angiofibroma is a highly vascular benign tumour that typically presents in adolescent males.
    Dry air — when your nasal membranes dry out, they're more susceptible to bleeding and infections
    Nose picking
   Other causes of nosebleeds include:
    Acute sinusitis
    Allergies
    Aspirin use
    Hemophilia (and other bleeding disorders)
    Blood thinners (anticoagulants), such as warfarin and heparin
    Chemical irritants, such as ammonia
    Chronic sinusitis
    Cocaine use
    Common cold
    Deviated septum
    Foreign body in the nose
    Nasal sprays, such as those used to treat allergies, if used frequently
    Nonallergic rhinitis
    Trauma to the nose
  Less common causes of nosebleeds include:
    Alcohol use
    Hereditary hemorrhagic telangiectasia
    Idiopathic thrombocytopenic purpura (ITP)
    Leukemia
    Nasal polyps
    Nasal surgery
    Nasal tumor
    Second trimester pregnancy epistaxis.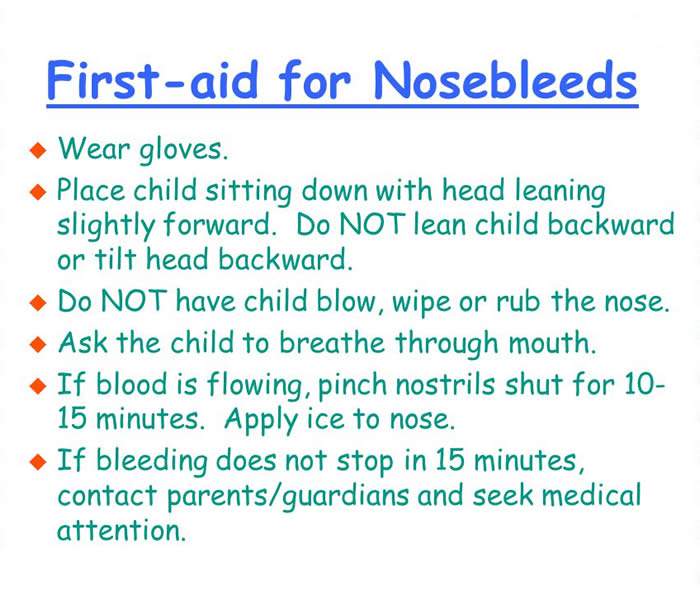 Note:
Additional bleeding from other parts of the body, such as bleeding gums when brushing teeth, blood in urine or bowel movements, or easy bruising may indicate an inability of the blood to clot.
Symptoms/Signs of Epistaxis (Nosebleed)
Confusion
Dizziness
Fainting
Weakness
How to diagnose Epistaxis Nosebleed)       
How to Prevent Epistaxis (Nosebleed)
The following tips may reduce your risk for developing nosebleeds.
Use saltwater (saline) nose drops or a spray.
Avoid forceful nose-blowing.
Do not pick your nose or put your finger in your nose to remove crusts.
Avoid lifting or straining after a nosebleed.
Avoid vigorously rubbing your nose, or any other kind of physical irritation, or trauma.
Elevate your head on one or two pillows while sleeping.
Apply a thin layer of a saline- or water-based nasal gel, such as NasoGel, to the inside of your nose.
Limit your use of aspirin and nonsteroidal anti-inflammatory drugs (NSAIDs). Acetaminophen, such as Tylenol, may be used to relieve pain. Be safe with medicines. Read and follow all instructions on the label.
Use prescription blood thinners, such as warfarin (such as Coumadin), enoxaparin (Lovenox), and clopidogrel (Plavix) as instructed by your doctor.
Do not use nonprescription antihistamines, decongestants, or medicated nasal sprays. These medicines can help control cold and allergy symptoms, but overuse may dry the inside of the nose (mucous membranes) and cause nosebleeds.
Keep your blood pressure under control if you have a history of high blood pressure. This will help decrease the risk of nosebleeds.
Do not smoke. Smoking slows healing. For more information, see the topic Quitting Smoking.
Do not use illegal drugs, such as cocaine or amphetamines.
If you have been prescribed something and you think it may be causing nosebleeds, talk to your doctor to avoid nosebleed.
    Do not stop taking prescribed medication unless your doctor tells you to. Stopping these medications could lead to serious health complications. If you can't avoid taking aspirin or anticoagulants, talk to your doctor about the best ways to prevent and treat nosebleeds.
You can take steps to prevent nosebleeds by not irritating your nose with picking, scratching or rubbing.
You can help keep the inside of your nose moist by increasing the humidity of your home, and by applying petroleum jelly to the inside of your nostrils.
Treatment for Epistaxis (Nosebleed)
Medical approaches to the treatment of epistaxis may include the following:

Adequate pain control in patients with nasal packing, especially in those with posterior packing (However, the need of adequate pain control has to be balanced with the concern over hypoventilation in the patient with posterior pack.)
Oral and topical antibiotics to prevent rhinosinusitis and possibly toxic shock syndrome
Avoidance of aspirin and other nonsteroidal anti-inflammatory drugs (NSAIDs)
Medications to control underlying medical problems (eg, hypertension, vitamin K deficiency) in consultation with other specialists
How to stop a nosebleed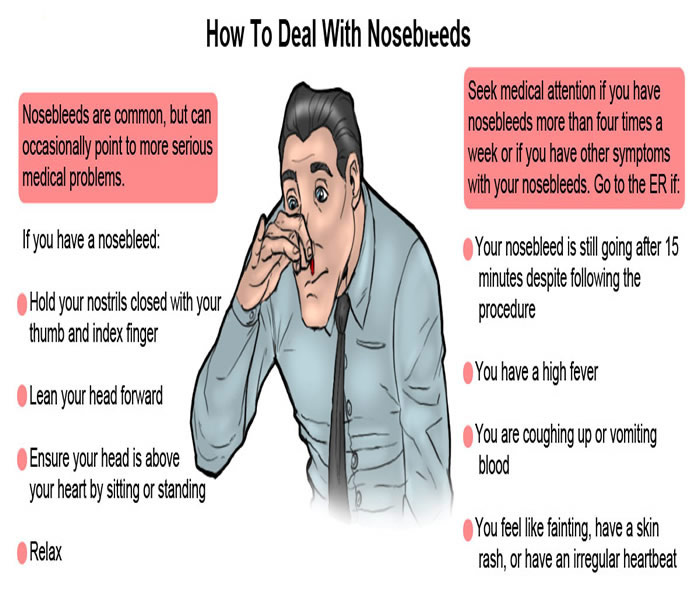 Remain calm.
Sit up straight and lean slightly forward.
Lean your head forward. Tilting your head back will only cause you to swallow the blood.
Pinch the nostrils together and apply direct pressure with the thumb and index finger for approximately 10 minutes. Time it to make sure the nostrils are not released earlier.
Spit out any blood in the mouth. Swallowing blood may make the affected individual vomit.
This technique will stop the majority of simple nosebleeds.
What to do after the bleeding has stopped

Once the bleeding has stopped, try to prevent any further irritation to the nose, such as sneezing, nose blowing, or straining for 24 hours.
Ice packs do not help nosebleeds.
Exposure to dry air, such as in a heated home in the winter, can contribute to the problem. Adding moisture to the air with a humidifier or vaporizer will help keep the nose from drying out and triggering more bleeding. Another option is to place a pan filled with water near a heat source, such as a radiator, which allows the water to evaporate and adds moisture to the air.
Nasal saline sprays or other lubricating ointments or gels also may be useful to promote tissue healing and keeps the nasal passages moist.
Epistaxis (Nosebleed) Home Remedies/Home Cure

Vitamin C and bioflavonoids help prevent capillary fragility. Take 500 to 1,000 milligrams of each four times daily for two days after a nosebleed. Then take 500 milligrams of each twice a day for at least one month.
Vitamin K helps the blood to clot more efficiently. If you suffer from recurring nosebleeds, take 25 micrograms once or twice daily for one month.
Another way to stop a nosebleed is to wet a bit of cotton or plain sterile gauze with white vinegar and place it in your nose. Leave it in place for at least ten minutes. The acid of the vinegar will gently cauterize the inside of the nose and stop the bleeding.Home Remedies to Stop Bleeding Nose If you develop a nosebleed, do the following:
Calmly sit down in an upright position, not back in the chair. This will help to keep blood from going down the back of your throat.
Breathe through your mouth.
Tilt your head forward (not backward): Place your thumb and forefinger on either side of the bridge of your nose and pinch the soft part of your nose firmly for ten minutes without releasing. Apply pressure firmly enough to slow bleeding, but not so strongly as to cause discomfort. Pressure decreases the blood flow through the affected area, slowing bleeding. You can also place a cold compress on the bridge of your nose. This has not been proven to be effective but seems to help constrict the local blood vessels.
After ten minutes, release the nostrils slowly and check to see if the bleeding has stopped. Avoid touching or blowing your nose. If the bleeding has not stopped, apply pressure for another ten-minute period.
If your nose is still bleeding steadily after twenty minutes of pressure, call your health-care provider.
Complications of Epistaxis (Nosebleed)         
Nosebleeds can sometimes be distressing due to the amount of visible blood loss, but they are very common.
If you have heavy or recurring nosebleeds, your GP may refer you to an ear, nose and throat (ENT) specialist for further investigation.

Anaemia: Excessive bleeding over a period of time can lead to anaemia (a group of disorders affecting red blood cells). Frequent (more than once a week), or heavy, nosebleeds can contribute to this condition if you are losing a lot of blood. Other symptoms, such as tiredness, will also be present. You should mention your nosebleeds to your GP if you suspect that you have anaemia.
Nasal deformity: A broken nose can result in a permanent change to the shape of your nose. If you break your nose, an ENT (ear, nose and throat) specialist will attempt to manipulate your nose (move it back into place with their hands) while you are under anaesthetic. However, this is not always effective and surgery may be required to correct the shape of your nose.