Syphilis
What is Syphilis?
Syphilis is a chronic bacterial disease that is contracted chiefly by infection during sexual intercourse, but also congenitally by infection of a developing fetus. It is caused by the bacteria Treponema pallidum.
Syphilis is a common and dangerous infection that is spread from person to person through sexual contact.
It is an infection that is transmitted by direct contact with a syphilitic sore via skin and mucous membranes such as the vagina, anus, rectum, lips and mouth, most commonly during oral, anal or vaginal sexual activity. In rare occasions  syphilis spread during kissing.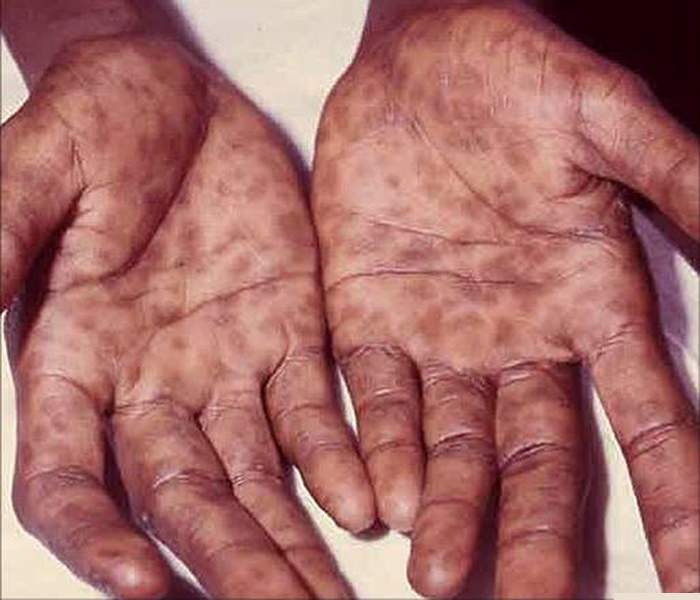 Causes of Syphilis
It is caused by the bacteria Treponema pallidum, Syphilis is caused by a spirochete (a worm-like spiral-shaped bacteria) called Treponema pallidum.
It spreads from mother to baby during pregnancy, and it is referred to as congenital syphilis.
In addition to spread during sexual activity, syphilis can be spread from mother to baby during pregnancy, referred to as congenital syphilis.
Syphilis during pregnancy can result in a stillborn birth or a low birthweight baby, and if left untreated, a baby with syphilis can develop cataracts, deafness, or seizures. In some cases, infants can die from the disease.
Stages of Syphilis Infection
The four stages of syphilis are:                                          
Primary
Secondary
Latent
Tertiary
Primary stage /Early or primary syphilis:
During the primary stage, a sore (chancre) that is usually painless develops at the site where the bacteria entered the body. This commonly occurs within 3 weeks of exposure but can range from 10 to 90 days. A person is highly contagious during the primary stage.   In men, a chancre often appears in the genital area, usually (but not always) on the penis. These sores are often painless.
In women, chancres can develop on the outer genitals or on the inner part of the vagina. A chancre may go unnoticed if it occurs inside the vagina or at the opening to the uterus (cervix), because the sores are usually painless and are not easily visible.  Swelling of the lymph nodes may occur near the area of the chancre.
A chancre may also occur in an area of the body other than the genitals.
The chancre lasts for 3 to 6 weeks, heals without treatment, and may leave a thin scar. But even though the chancre has healed, syphilis is still present and a person can still pass the infection to others.
Secondary stage rash on the palms of the hands
The secondary stage
Syphilis is a sexually transmitted infection (STI). There are four stages of the disease: primary, secondary, latent, and tertiary (also known as neurosyphilis). Primary syphilis is the first stage of the disease. It causes one or more small, painless sores in or around the genitals, anus, or mouth. If you don't get treatment for the primary stage of the disease, it may progress to the second stage, which is secondary syphilis. If you aren't treated for secondary syphilis, the disease will likely progress to the latent stage, and may even progress to the tertiary stage
The secondary stage of syphilis is curable with medical treatment. It's important to get treatment to prevent the disease progressing to the tertiary stage, which may not be curable, and can cause damage to your organs, as well as dementia (memory loss), paralysis, or even death.
Latent Syphilis
This asymptomatic stage occurs in two phases: early (within 1 year of infection) and late (after 1 year), and follows secondary syphilis. Late latent syphilis is noninfectious. The bacteria remain inactive in the lymph nodes and the spleen. Latency can last 3–30 years and may or may not progress to the final, or tertiary, syphilis. About 30 percent of infected people persist in a latent state.
Tertiary syphilis: If the infection isn't treated, it may then progress to a stage characterized by severe problems with the heart, brain, and nerves that can result in paralysis, blindness, dementia, deafness, impotence, and even death if it's not treated.
Risk factors
You face an increased risk of acquiring syphilis if you:
Are a man who has sex with men
Are infected with HIV, the virus that causes AIDS
Engage in unprotected sex
Have sex with multiple partners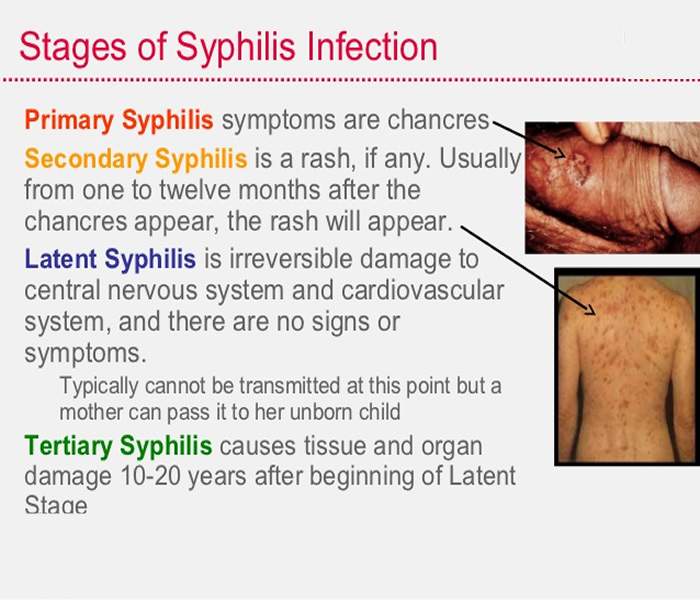 Symptoms/Signs of Syphilis
Fever
General ill feeling
Joint pain
Loss of appetite
Moist, warty patches (called condylomata lata) in the genitals or skin folds.
Muscle aches
Skin rash, usually on the palms of the hands and soles of the feet
Sores called mucous patches in or around the mouth, vagina, or penis                                         
How to diagnose Syphilis
To diagnose syphilis, you'll usually have a:
Physical examination – a doctor or nurse will ask to examine your genitals (and inside the vagina for women) or other parts of your body to look for growths or rashes that may be caused by syphilis
Blood test – this can show whether you have syphilis or have had it in the past; repeating the test a few weeks later may be recommended if it's negative, in case it was too early to give an accurate result
Swab test – a swab (similar to a cotton bud) is used to take a small sample of fluid from any sores, so it can be checked for syphilis.
How to Prevent Syphilis
Syphilis is spread from sexual contact with someone who has it. It can be passed even if no one cums. Syphilis is spread during vaginal, anal, or oral sex.
So the best way to avoid syphilis and other STDs is to not have vaginal, anal, or oral sex at all. But most people have sex at some point in their lives, so knowing how to have safer sex is important. Using protection when you have sex really helps to lower your chances of getting an STD.
Getting tested for STDs regularly is another important way to keep yourself healthy.
Avoid having sex with multiple partners
Avoid sharing sex toys
Get screened for sexually transmitted infections and talk to your partners about their results
Syphilis can also be transmitted through shared needles. Avoid sharing needles if you're going to use drugs
Use a dental dam (a square piece of latex) or condoms during oral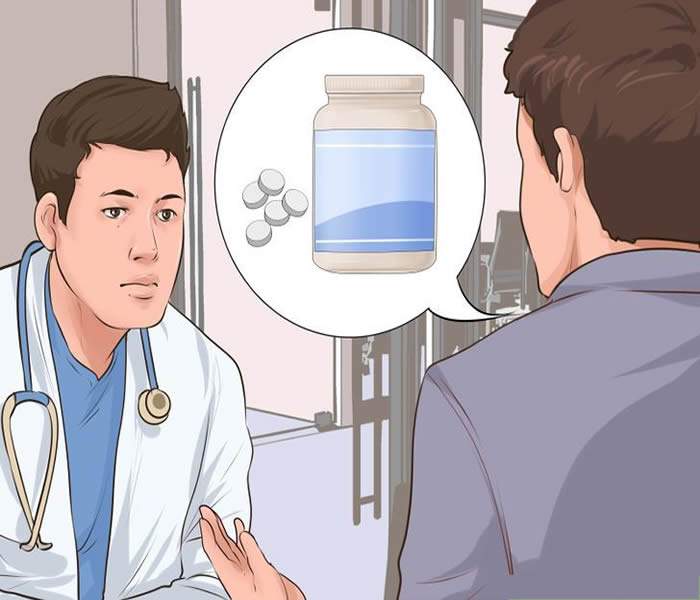 Treatment for Syphilis
A single intramuscular injection of long acting Benzathine penicillin G (2.4 million units administered intramuscularly) will cure a person who has primary, secondary or early latent syphilis. Three doses of long acting Benzathine penicillin G (2.4 million units administered intramuscularly) at weekly intervals is recommended for individuals with late latent syphilis or latent syphilis of unknown duration. Treatment will kill the syphilis bacterium and prevent further damage, but it will not repair damage already done.
Doxycycline is the best alternative for treating early and late latent syphilis. Syphilis associated with HIV infection does not require any enhanced antimicrobial therapy.
Penicillin is the drug of choice to treat syphilis.
In the treatment of late syphilis by weekly injections, missing a dose of penicillin for a period of 10-14 days does not require restarting the entire course of injections.
The exception to this is in the case of pregnant women in whom there is no latitude for missing a dose of penicillin.
There is evidence that an interval of 7-9 days between doses may produce better results.
CSF testing to detect neurosyphilis is strongly recommended in patients with tertiary syphilis or with neurological signs or symptoms consistent with neurosyphilis and in patients without symptoms whose serologic titers do not decline appropriately after being treated with recommended therapy.
Reinfection rates among MSM are high, so frequent serological testing in this group is recommended.
CDC recommends the use of the RPR-based screening algorithm. When there is a low epidemiologic risk or clinical probability of syphilis, the positive predictive value of an isolated unconfirmed reactive treponemal chemoluminescence test or enzyme immunoassay is low.
Syphilis Home Remedies/Home Cure
Natural and Herbal Treatments
A variety of natural herbal and non-herbal supplements may be helpful in treating your syphilis and other sexually transmitted diseases. According to certified nutritional consultant Phyllis A. Balch, author of "Prescription for Nutritional Healing," beneficial non-herbal supplements may include free-form amino acids, vitamin C with bioflavonoids, zinc, colloidal silver and coenzyme Q10. Helpful herbal supplements include garlic, kelp, hops, goldenseal and red clover. Not all dietary supplements used in treating this condition have been studied using current scientific testing methods.
Garlic Supplement
Garlic is well-known for its natural healing properties. It is an excellent cure for STDs. However, it may not work for all kinds of STDs and towards its prevention. The antiseptic and antiviral power of garlic naturally cleans the system. It works very well if taken in the form of supplement.
Diet
Foods affect syphilis either positively or negatively depending on their form. STDs like syphilis are healed by foods that help in restoring the natural balance and that too without any side effects. Lettuce, parsley, sugar, processed and refined foods, alcohol and some citrus fruits must be avoided in such diseases as the ailment may spread quickly. Make it a point to consume only nutritious food. A right diet can treat and miraculously heal syphilis.
Neem Tree Fruit
Due to its medicinal and pesticidal properties the neem fruit is quite effective in treating syphilis. It is also known for its immuno-stimulating properties for cell mediated and lymphocytic immune-systems.
Taking small amounts of neem bark powder or neem leaf or consuming neem tea every alternate day can improve the antibody production and the ability of the cells to fight against infections.
Click here to read more about Natural Therapy for Syphilis

Complications of Syphilis
Syphilis was once a major public health threat, commonly causing serious long-term health problems such as arthritis, brain damage, and blindness.
At its beginning stage, syphilis will cause sores called chancre in the body. Chancres are seen mostly in genital areas of the body. Syphilis can also cause rash, mild fever, fatigue, headache, sore throat, patchy hair loss, and swollen glands through the body. If left untreated syphilis can spread to all areas of the body.
During the tertiary stage of syphilis, small, rubbery lesions may develop on the bones, skin, nervous system tissue, and/or arteries of the heart or the brain. Due to these lesions and other health complications, these individuals are susceptible to heart attack
Paralysis
Blindness
Stroke
Numbness
Dementia