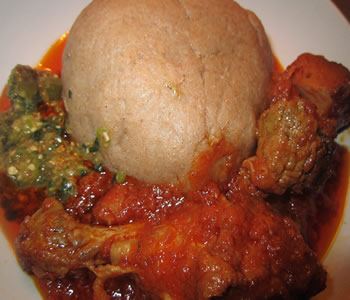 PLANTAIN FUFU
Amala is the Nigerian version of FuFu, though it is made with elubo (yam flour).
This is made from fermented yam that is dried through a special process. The dried yam is then ground into yam flour. This fufu is from the western part of Nigeria.
Recipe for three servings
REQUIREMENTS
- 6 cups of elubo ogede(Plantain flour)
- 4 cups Water
What you do
Pour water into a pot,bring the water to a boil.Add the elubo slowly, stirring as you add it.Keep adding it until it is thick (you may not need all of the elubo depending on how thick you want it).
Once it is all added, continue to mix until it is smooth and consistent in texture.
Serve with your choice of soup.