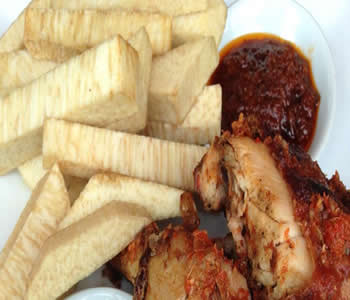 FRIED YAM & PEPPER SAUCE
(Dundu)
Recipe for three servings
REQUIREMENTS
- 1 small yam
- 1 teaspoons salt
- 4 tablespoons fresh pepper (ground)
- 1 onion
- 60 ml groundnut oil
- 1 smoked fish (made into flakes).
What you do
Peel and wash yam; add salt and drain yam in a sieve. Fry in bits in a heated skillet of groundnut oil.
When fried, drain oil from yam in another sieve. Fry sauce in a separate skillet and serve with the fried yam.