Wedding Planning Tips

Planning your wedding can be a exciting and at the same time a daunting experience. Depending on your budget, you can decide to hire a wedding planner who will take most of the stress of your hands. You can also plan your wedding yourself, getting help as needed. With so much information available from magazine, online etc, you have enough information to plan your wedding stress free when you start out on time.
In order to plan a stress free wedding, you need to:
a) Develop a Plan
b) Be very clear who is doing what
c) Source for information in order to make informed decisions.
d) Coordination to ensure everything is pulling in the same direction.
As the bride-to-be, it is easy to underestimate the amount of work that planning and execute a wedding entails. Remaining organized will not only help you save yourself from feeling overwhelmed, it can help you avoid any major embarrassment on your wedding day. Here are some organizational tips that will help you stay on track without being overwhelmed.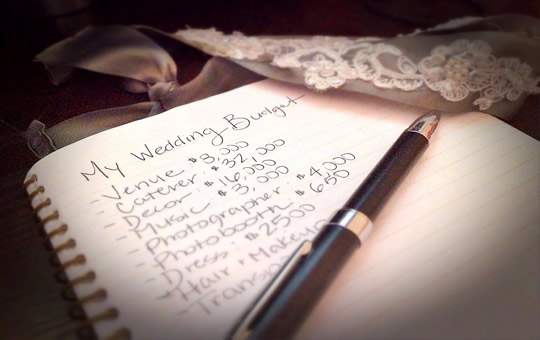 Get a Wedding Planner
The first thing to do is to hire a wedding planner or appoint one. That can be you, or if you are not up to it, a very close friend (chief bridesmaid) who is willing to commit the time, and hold your hand through the process. You can also purchase a wedding planner (workbook) if available, which will guide you through the process, depending on the type of wedding you have in mind. A wedding planner is comprised mostly of planning worksheets to help you pen down your plans for each aspect of the wedding.
Start Early
One of the most common mistakes brides make in planning a wedding is thinking they have "plenty of time." After the initial glow of accepting the proposal, depending on the type of wedding you have in mind, you need up to six moths to pull of a stress free wedding. The more time you have to plan, the more options you will have for everything. Following a wedding timeline will give you an idea of what needs to be accomplished and what your time frame should be. Some halls are booked for almost a year ahead, so the earlier you book, the more options you have, rather than have a date shoved down your throat.
Hold Planning Meetings
Agree up front on which days of the week you are to meet with your partner to plan the wedding. This may be a challenge for a busy couple or couples living in different towns. Having a dedicated time for planning will keep both of you focussed on planning the wedding, be on the same page, resolve differences and gain momentum. You will achieve much more than meeting at random to plan. Making a to-do list for your next planning session will help you recollect what has and has not been done and help you utilize your allotted time more effectively. As the date approaches, you will need to meet more often, to ensure there are no loose ends or any task slipping through the cracks.
Delegate Duties
Trying to do everything all by yourself can lead to an overwhelming feeling and possibly discourage you. Make a list of things to be done and sit down with the groom-to-be, friends and family and choose who will do what. The responsibility to oversee every task lies with the planner (you), but do not wear out yourself and aggravate others by trying to micro manage. Get updates before each planning meeting, to give both of you a clear picture of progress on each item, and what requires intervention. Communication is critical in getting the message across to your army of helpers without ambiguity. If your instructions are vague, what you see is what you get. Remain in control by communicating clearly and concisely, so that everyone is on the same page.
Communication
This point cannot be stressed enough. It is critical that the bride- and groom-to-be are on the same page, and it is also good practice for starting off your marriage on the right foot. You will want to make sure that each of you are together on every decision, except of course on issues that relate to the bride only. The wedding planning period is a period where differences pop up, and if not well handled, can lead to a blow out. Some weddings have been called off over differences that would have been better handled. No item on the wedding planner is a do or die affair. Keep your eyes on the big picture, and be ready to compromise to ensure win-win outcomes. It is also that your army of helpers are crystal clear on what is expected of them. Grabbing the wrong end of the stick leads to stress and waste of time, energy and scarce resources (eg buying the wrong item, wrong colour etc).
Compromise
Compromise is the name of the game, if you are to have a harmonious stress free wedding planning, and indeed marriage. If you are used to having your way or nothing, you are in for a miserable time. Don't dig your toes in and issue ultimatums. Don't take things too seriously. The only must do when it comes to a wedding is the exchange of vows. Every other thing is human tradition which are not cast in concrete. There are going to be things that each of you will not particularly care for, and things that really matter. Keep in mind that being flexible is a must when it comes to planning a wedding, especially if there are certain traditions in each family. Accommodate each other's idiosyncracies, of course within reasonable limits. The spirit should be that of give and take. Remember that getting married merges two families, and you should be open to communicating with both families about their wishes and traditions.
Do Your Homework
Go through bridal magazines and note things that catch your eye. Make sure you bring the magazines (or colour print from a web page) with you, so you can show vendors what you have in mind. A picture is worth a thousand words. The internet is the biggest library in the world. Google what ever it is you are looking for. Also tap into your network of friends that have worked this path, so as not to repeat the mistakes they made. No wedding is perfect. Ask your recently married friends what mistakes they made, and wished they had done differently, so that you can learn from their mistake. Their war stories will come in handy on things to avoid.
Choose Vendors Wisely
This is where recommendations from recently married friends become invaluable. All that glitters is not gold. They can advise which vendors to go for, and which to avoid. They will also provide tips on how to handle vendors, so as to avoid surprises on your wedding day. Use vendors that come highly recommended. Your budget will determine what comes with the package, but with the advice of those that have gone before you, you can still get a good deal. When choosing your vendors, try to make certain this vendor will do exactly what you are asking and that you are comfortable doing business with this person. Do your homework well, to avoid the stress and recriminations that comes with changing vendors mid-way can lead not only to confusion and lost details, but it can be a costly change. Most vendors will not refund your deposit.
Get It in Writing
Be sure to get a receipt/contract from each and every vendor for goods and services to be performed. This should clearly state what services the vendor will provide, with cost and dates. Everything shoould be spelled out, to avoid ambiguity which brings arguments and embarrassment later (when you thought the vendor ought to provide, hence you made no provisions for it). Spell out everything and never assume anything. Be sure to read the fine print on every contract before you sign it, and ask about any cancellation policies and fees.
Relax and Do It
After having done all, relax, commit your plans to God and go for it. With commonsense and multitude of counsel, you can hardly go wrong. Stick to your budget and infuse your creativity to overcome every challenge. You dream wedding will go as planned. All the best
Please send comments and contributions to lifestyle@nigeriagalleria.com