Map of Sokoto State
Executive Governor
Ahmad Aliyu
Coat of Arms
Official Website: http://www.sokotostate.gov.ng
Population: 3,696,999 (2006 Estimate) Alias: Seat of the Caliphate
Chief Judge:: Justice Mohammed Suleiman Ambursa
Speaker, House of Assembly: Rt. Hon. Aminu Achida (APC)
GENERAL INFORMATION
Sokoto State was carved out of the then North Western State in February 3, 1976 by the former regime of General Murtala Mohammed. It's capital and largest city is Sokoto. The state is named after its capital Sokoto, a city with a long history and the seat of the Sokoto Caliphate.
Situated in the North Western corner of Nigeria, Sokoto State occupies 25,973 squarekilometers. Sokoto State shares its borders with Niger Republic to the North, Zamfara State to the East, Kebbi State to the South-East and Benin Republic to the West.
Even before the arrival of the Fulani, the state concept had evolved in Hausa land. During this process some of the Hausa communities scattered over a wide area, had regrouped themselves into major units that are referred to as kingdoms.
Some of the emergent kingdoms include Kebbi, Zamfara and Gobir, all forming part of Sokoto State.
For purposes of vital identification, the people in each kingdom had distinct names by which they are referred to, e.g. people in Kebbi kingdom were known as Kabawa. Not only that, at a later stage people in each kingdom started to wear distinguishable tribal marks which were unique to them.
Fulani rule under the leadership of Usman Dan Fodio started with the Jihad in the early years of the 19th Century. By 1809 most of Hausa kingdoms were toppled and replaced with Islamic Governments under a unified administration whoseheadquarters was at Sokoto. This continued up to the arrival of the British.
The Sultan of Sokoto is a direct descendant of Usman Dan Fodio and is the spiritual head of all muslims in Nigeria.
Sokoto State is in the dry Sahel, surrounded by sandy savannah and isolated hills.
ECONOMY
The region's lifeline for growing crops is the floodplains of the Sokoto-Rima river system (see Sokoto River), which are covered with rich alluvial soil. For the rest, the general dryness of the region allows for few crops, millet perhaps being the most abundant, complemented by rice, corn, other cereals and beans. Apart from tomatoes few vegetables grow in the region. The low variety of foodstuffs available has resulted in the relatively dull local cuisine.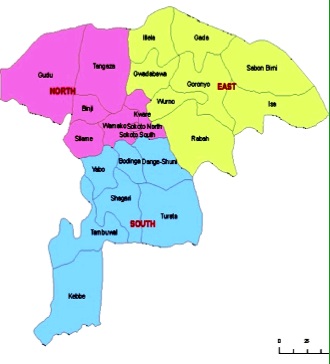 Local Governments
Binji
Bodinga
Dange-shnsi
Gada
Goronyo
Gudu
Gawabawa
Illela

Isa
Kware
kebbe
Rabah
Sabon birni
Shagari
Silame
Sokoto North

Sokoto South
Tambuwal
Tungaza
Tureta
Wamako
Wurno
Yabo