The map of Nigeria showing the 36 states in Nigeria and their capitals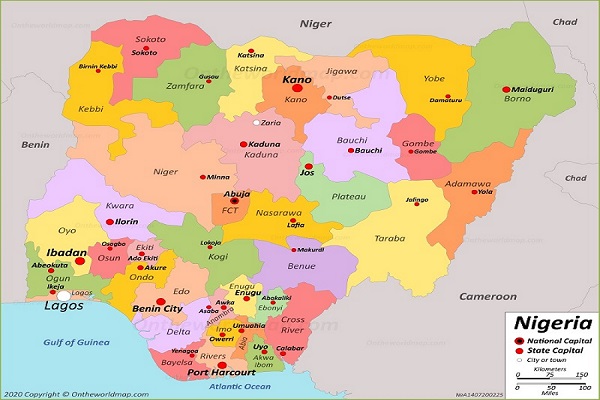 36 States of Nigeria
Nigerian State (Capital)
Nigeria is a federation of 36 states with federal capital territory - Abuja. The Federal Capital Territory, also known as FCT, is the capital of Nigeria. The Abuja FCT is not a state but is administered by a Federal Minister appointed by the President as part of his cabinet.
Each state in NIgeria is sub-divided into Local Government Areas (LGAs). There are a total of 774 local government areas in Nigeria.
State Creation in Nigeria
At independence in October 1, 1960, Nigeria has three (3) regions:
1) Northern Region
2) Western Region
3) Eastern Region
In 1963, a new region, the Mid-Western Region, was created from the Western Region.
Then four years later in 1967, the regions were replaced by 12 states by military decree by the then Head of State General Yakubu Gowon, namely;
In 1976, seven new states were created by military decree by the then Head of State General Murtala Mohammed bringin the total to 19 states, including the Federal Capital Territory Abuja.
1960 - 1963 (4 Regions)
1967 (12 States)
1976 (19 States)
NORTHERN REGION

North-Western State
North-Eastern State
Kano State
North Central State
Benue-Plateau State
Kwara State

Bauchi State
Benue State
Borno State
Gongola State
Kaduna State
Kano State
Kwara State
Niger State
Plateau State
Sokoto State

WESTERN REGION

Western State
Lagos State

Lagos State
Ogun State
Ondo State
Oyo State

MID WESTERN REGION

Mid-Western State

Bendel State

EASTERN REGION

East Central State
Rivers State
South-Eastern State

Anambra State
Cross River State
Imo State
Rivers State
Abuja was carved from parts Kwara, Niger, Kaduna and Plateau States with the bulk of landmass carved out of Niger State
In 1987, the then military President General Ibrahim Babangida created two new states were created - Akwa Ibom State from Cross River State and Kastina State from Kaduna State, bringing the number to 21 States.
Four years later (1991), General Babangida created an additional nine (9) states bringing the total to 30 States. Finaly in 1996, the then military Head of State General Ibrahim Abacha created six (sixe more states, bringing the total to 36 states, which remains till present date.
1976 (19 States)
1987 (21 States)
1991 (30 States)
1996 (36 States)

Bauchi State
Benue State
Borno State
Gongola State
Kaduna State
Kano State
Kwara State
Niger State
Plateau State
Sokoto State

Bauchi State
Benue State
Borno State
Gongola State
Kaduna State
Kano State
Katsina State
Kwara State
Niger State
Plateau State
Sokoto State

Adamawa State
Bauchi State
Benue State
Borno State
Jigawa State
Kaduna State
Kano State
Katsina State
Kebbi State
Kogi State
Kwara State
Niger State
Plateau State
Sokoto State
Taraba State
Yobe State

Adamawa State
Bauchi State
Benue State
Borno State
Gombe State
Jigawa State
Kaduna State
Kano State
Katsina State
Kebbi State
Kogi State
Kwara State
Nasarawa State
Niger State
Plateau State
Sokoto State
Taraba State
Yobe State
Zamfara State

Lagos State
Ogun State
Ondo State
Oyo State

Lagos State
Ogun State
Ondo State
Oyo State

Lagos State
Ogun State
Ondo State
Osun State
Oyo State

Ekiti State
Lagos State
Ogun State
Ondo State
Osun State
Oyo State

Bendel State

Bendel State

Edo State
Delta State

Edo State
Delta State

Anambra State
Cross River State
Imo State
Rivers State

Anambra State
Akwa Ibom State
Cross River State
Imo State
Rivers State

Abia State
Anambra State
Akwa Ibom State
Cross River State
Enugu State
Imo State
Rivers State

Abia State
Anambra State
Akwa Ibom State
Bayelsa State
Cross River State
Ebonyi State
Enugu State
Imo State
Rivers State