Map of Adamawa State
Executive Governor
Ahmadu Umaru Fintiri
Coat of Arms
Official Website: NA
Population: 3,168,101 (2006 Estimate) Alias: Land of Beauty
Chief Judge:: Justice Nathan Musa (Acting).
Speaker, House of Assembly: Rt. Hon. Kabiru Mijinyawa
GENERAL INFORMATION
Adamawa State was created on 27th August, 1991, by the then Federal Military Government under General lbrahim Babangida, out of the former Gongola State with Yola as it's capital. It has four administrative divisions namely: Adamawa, Ganye, Mubi and Numan. Major towns are Yola, Mubi, Ganye, Numan, Guyuk, Michika, Mayo-Belwa, Gombi and Jimeta.
The state is shares her northern boundry with Borno State, east with Gombe State, south west with Taraba State and east with Cameroun Republic.
The State derives its name from Madibbo Adama, a Fulani leader who led the 19th Century Jihad in Upper Benue Region. Modibbo Adama, the son of Ardo Hassan, was born at Wuro Chekke in Borno State around 1770. He had his early Islamic studies under his father and later pro- ceeded to Birnin Ngazargamu, then capital of Borno Empire, for further studies.
During the Islamic Jihad movement led by Shehu Usman Dan Fodio in the 19th Century, Modibbo Adama was recognised as a learned Moslem who could lead the crusade in the Upper Benue area. He thus became a flag-bearer under-taking successive conquests to establish the kingdom of "Fombina," referred to as Adamawa ruling family with the Palace of the Lamido, a first - class Chief, in the heart of the town. The Lamido is the chairman of the Adamawa Emirate Council.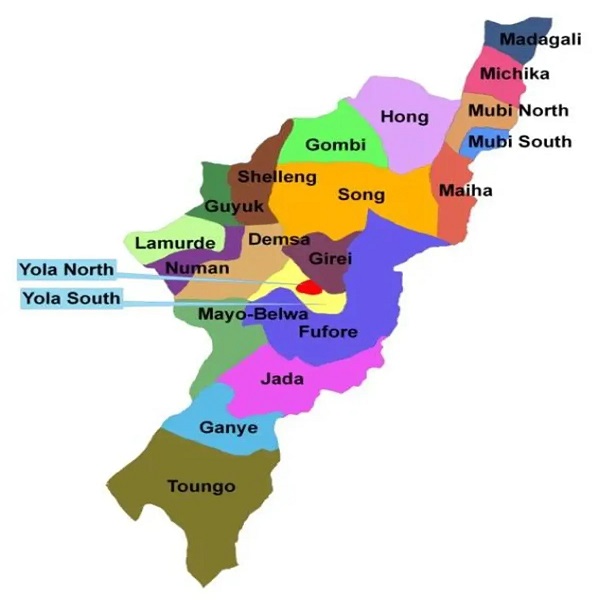 Local Governments
Demsa
Fufore
Ganaye
Gireri
Gombi
Guyuk
Hong

Jada
Lamurde
Madagali
Maiha
Mayo-Belwa
Michika
Mubi North

Mubi South
Numan
Shelleng
Song
Toungo
Yola North
Yola South

The state is essentially a mountainous land traversed by river valleys of Benue, Gongola and Yedsarem. The valleys of Cameroon, Mandara and Adamawa mountains form part of this undulating landscape.
Adamawa State is noted for its rich cultural heritage which reflects in its history, i.e. dances, dress patterns, craftsmanship, and music. The three main religions are Islam, Christianity and Traditionalism.
ECONOMY
The major occupation of the people is farming, on the two main vegetational zones, the Sub-Sudan and Northern Guinea Savannah Zone. Main cash crops are cotton and groundnuts while food crops include maize, yam, cassava, guinea corn, millet and rice.
The village communities living on the banks of the rivers engage in fishing while the Fulanis are nomadic cattle rearers.
The state has network of roads linking all parts of the country. There are also air and water routes which make the state accessible at all seasons.