Kano State Durbar or Hawan Sallah or Hawan Daushe as is locally called is a royal parade of thousands of men on horses adorned with garments and regalia. It is a colourful display of culture full of pomp and pageantry. A spectacular traditional concert of and bazaar of African music.It is celebrated at the culmination of Muslim festivals Eid al-Fitr and Eid al-Adha. It begins with prayers, followed by a parade of the Emir and his entourage on horses, accompanied by music players, and ending at the Emir's palace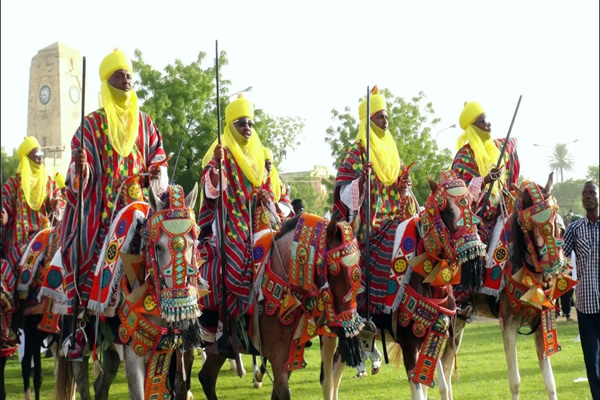 The Durbar festival dates back hundreds of years to the time when the Emirate (state) in the north used horses in warfare. During this period, each town, district, and nobility household was expected to contribute a regiment to the defense of the Emirate. Once or twice a year, the Emirate military chiefs invited the various regiments for a Durbar (military parade) for the Emir and his chiefs.
During the parade, regiments would showcase their horsemanship, their preparedness for war, and their loyalty to the Emirate. Today, Durbar has become a festival celebrated in honour of visiting Heads of State and at the culmination of the two great Muslim festivals, Id-el Fitri (commemorating the end of the holy month of Ramadan) and Ide-el Kabir (commemorating Prophet Ibrahim sacrificing a ram instead of his son).