Apart from being the oldest in Kano State, Kasuwar Kurmi, as it is popularly called is unarguably one of the oldest markets in the West African sub region. According to the historical accounts by the natives, the market, which sits in the heart of Kano city (Kano Municipal Local Government area)was established some 600 years ago purposely for the trade in slaves. During the period of the boom in human trade, many shops were set up in the market to keep slaves while awaiting buyers. Ironically, today, Kasuwar Kurmi appears to be the sanctuary for Kano cultural heritages. It is what could be described as the repository of the state's artifacts.
Unlike Kantin-Kwari where textile materials that are made by machines and imported from the Arabian countries, China, Europe and America are sold, Kasuwar Kurmi products are entirely hand-made with traditional and historical attachments. The market was built during the golden era of Kano, during the reign of Mohammed Rumfa, about 500 years ago. Rumfa it was who expanded the ancient city, gave it a new form that the indigenes are still proud of today. His reign also had a great influence on the city economically, religiously and socially.
Economically, the city emerged as a centre of trade with the magreb countries of North Africa. He constructed the kurmi market, thereby leading to the emergence of a very strong economic system in the city. It was as a result of these trading activities in Kurmi market that ancient Kano was in the part of the trading routes of the Trans-Saharan trade. The market became, in the course of the rans-saharan trade, the source of what the world erroneously came to refer to as the Morrocan leather. The kurmi market today serve as a tourists' attraction centre in Kano.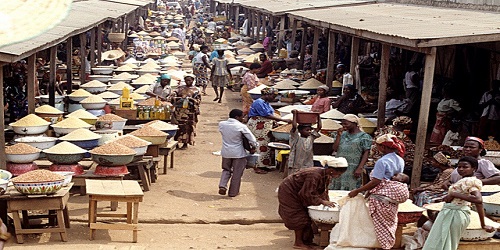 Kurmi market is not your usual modern market with a well demarcated walk way. It is a maze of openings and turnings and turnings that only those used to the market would understand. A stranger venturing into the market on his own would end up embarking on a merry go round, ending up in the same place where you started the journey.
What they were doing was one of the things that for the past 500 years have been attracting people from all over the world to kano. Probably hundreds of years, back some craftsmen had been sitting at the same spot engaging in similar task.