Map of Katsina State
Executive Governor
Dikko Umaru Radda
Coat of Arms
Official Website: https://www.katsinastate.gov.ng/
Population: 5,792,578 (2006 Estimate) Alias: Home of Hospitality
Chief Judge:: Justice Saddik Abdullahi Mahuta.
Speaker, House of Assembly: Rt. Hon. Tasiu Maigari
GENERAL INFORMATION
Katsina State was carved out of Kaduna State on September 23, 1987 by the then regime of General Ibrahim Babangida. It's capital is Katsina.
It is made up of two emirates which feature prominently in the establishment of the seven Hausa Kingdoms.
The lineage between Bayajida and Daurama produced the founders of Daura, Katsina, Zaria, Kano, Rano Gobir and Biram. The legendary Kusugu well where the snake called Sarki was slain is one of the tourist attractions of Daura.
Katsina was founded by Kumayo and before the Fulani conquest had been an important seat of learning and a commercial centre of the trans-Saharan Trade. It provided one of the earliest education centres of the north.
Located in northern Nigeria, Katsina State occupies 24,192 square kilometres. Katsina State is bounded in the East by Kano and Jigawa States, in the West by Zamfara State, in the South by Kaduna State and in the North by the Niger Republic. The indigenes are Hausa and Fulani.
ECONOMY
Katsina state has large deposit of kaolin and asbestos and other needed minerals for good industrial take off.
Katsina is one of the few states in the country where crops are grown all the year round. Apart from farming during the rainy season, dry season farming is done along river banks and along the numerous dams built by the State and Federal Governments.
Due to it's vast arable land, it is currently playing a leading role in commodity/food production namely: cotton, groundnut, millet, guinea corn, maize, rice, wheat and vegetables. Government's encouragement and general incentives to both large and small scale as well as peasant farming over the year, has been quite commendable.
TOURISM
Katsina city is a tourist attraction because of the wall that surrounds it with its seven different gates. The wall was built about 900 years ago during the reign of King Murabus. The Emirs palaces in Katsina and Daura are also tourist attractions because of their unique architectural structure.
The Katsina Teacher's College built in 1922 is the oldest institution of learning in the northern states. Its main attraction is the red-baked city mud with which it was built.
Another important tourist attraction is the Gobarau Minaret built about 300 years ago. It was built of baked clay and mud and has been a thing of wonder to the inhabitants of the city. Legend has it that in those days, because of its height, it was used for surveillance purposes from where warriors could see enemies advancing on the ancient city.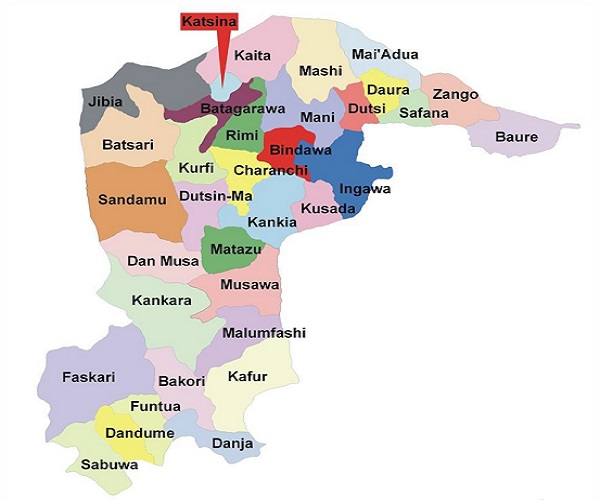 Local Governments
Bakori
Batagarawa
Batsari
Baure
Bindawa
Charanchi
Dandume
Danja
Dan Musa
Daura
Dutsi
Dutsin-Ma

Faskari
Funtua
Ingawa
Jibia
Kafur
Kaita
Kankara
Kankia
Katsina
Kurfi
Kusada

Mai'Adua
Malumfashi
Mani
Mashi
Matazuu
Musawa
Rimi
Sabuwa
Safana
Sandamu
Zango