Map of Cross River State
Executive Governor
Bassey Edet Otu
Coat of Arms
Official Website: http://www.crossriverstate.gov.ng
Population: 2,888,966 (2006 Estimate) Alias: The People's Paradise
Chief Judge: Hon. Justice Okoi Ikpi Itam
Speaker, House of Assembly: John Gaul-Lebo
GENERAL INFORMATION
Cross River State was created in May 27, 1967 from the then Eastern Region by the General Yakubu Gowon regime. It's name was changed to Cross River State in the 1976 state creation exercise by the then General Murtala Mohammed regime. The present day Akwa Ibom State was excised from it in the state creation exercise of September 1987 by the then regime of General Ibrahim Babangida. It's capital is Calabar. It's major towns are Akamkpa, Calabar, Ikon, Obubra, Odukpani, Ogoja, Okundi, Ugep, Obudu, Obanliku and Akpabuyo.
Cross River is a coastal state in South Eastern Nigeria, named after Cross River , which passes through the state. Located in the Niger Delta, Cross River State occupies 20,156 square kilometres. It shares boundaries with Benue State to the north, Enugu and Abia States to the west, to the east by Cameroon Republic and to the south by Akwa-Ibom and the Atlantice Ocean.
There are three major language groups in Cross River State - Efik, Ejagham and Bekwara.
The culture of the different groups in the State bear striking similarities. Each rhythm and dance express the inner feelings of the people which relate to particular events, festivals, or simply their way of life. Dances in Cross River State include: Ekpe, Nkwa, Obon, Udoiminyang, Abang, moninkim, Acharbor, Onat Ekertedi, Ayita, Udiang Otichui and many others. Traditional festivals relating to farming activities are observed in Yala, Yarkurr, Obubra, Wont, Ogoja, Obudu, Obanliku and Boki local Government areas. These festivals are observed annually to celebrate the rich harvest of the season.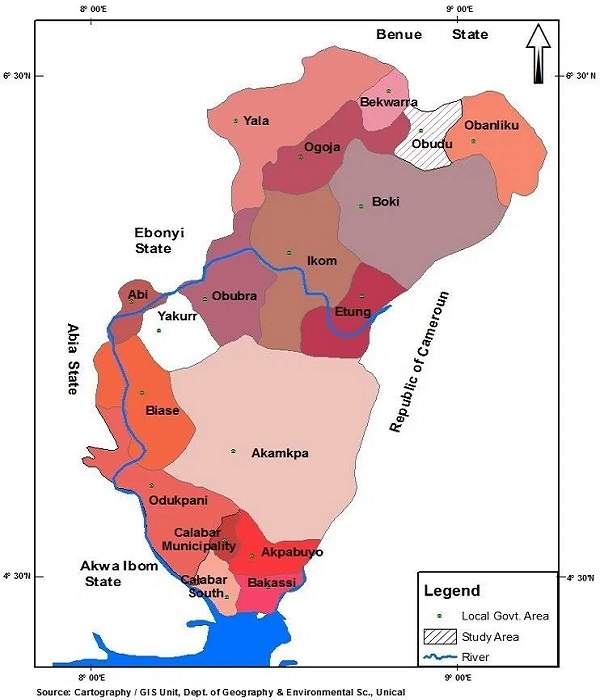 Local Governments
Akpabuyo
Odukpani
Akamkpa
Biase
Abi
Ikom

Yarkur
Odubra
Boki
Ogoja
Yala
Obanliku

Obudu
Calabar South
Etung
Bekwara
Bakassi
Calabar Municipality