Map of Kebbi State
Executive Governor
Atiku Bagudu
Coat of Arms
Official Website: https://www.kebbistate.gov.ng
Population: 3,238,628 (2006 Estimate) Alias: Land of Equity
Chief Judge:: Justice Mohammed Suleiman Ambursa.
Speaker, House of Assembly: Rt. Hon. Ismaila Abdulmumini Kamba
GENERAL INFORMATION
Kebbi was formed out of Sokoto State in August 27, 1991 by the then regime of General Ibrahim Babangida. It's capital is Birnin-Kebbi. Its major towns include Birnin-Kebbi, Argungu and Yelwa.
Kebbi State is divided into 21 local government areas , four emirate councils (Gwandu, Argungu, Yauri and Zuru), and 35 districts. Kebbi state derived its name from the 14th century "KEBBI KINGDOM" which was a province of the former Songhai Empire. Islam is the predominant religion.
Located in North Western Nigeria, Kebbi State occupies 36,800 square kilometres. Kebbi State shares boundaries with Sokoto State on the North-Eastern axis, Zamfara State on the Eastern part, Niger state on the Southern part and Republic of Niger on the Western part.
ECONOMY
Kebbi state has an agriculturally viable environment since it is endowed with high soil fertility, vast farm lands and economically viable rivers sheltered by fine tropical climate.
Owing to these factors, agriculture has remained the major source of revenue and indeed the backbone of the economy of the state.
Major food crops in the area are millet, guinea - corn, maize, cassava, potatoes, rice, beans, onions and vegetables, while cash crops including wheat, soya beans, ginger, sugarcane, groundnuts and tobacco are also produced in the state. Similarly, fruits such as mango, cashew, guava and pawpaw are produced under horticulture.
Kebbi state has Kebbi Agricultural Development Authority which is responsible for the implementation of its agricultural policies.
Kebbi state is endowed with economically viable rivers such as the Niger and the Rima for the development of fisheries activities. Fishing has always been one of the key occupation of the inhabitants of the state.
Also environmental factors as well as the largest concentration of cattle and other animals has made the state a basic raw materials source for diary-products industries.
The mineral resources in the state include limestone, salt, clay and gypsum.
TOURISM
One of the occupational festivals is the Argungu Fishing and cultural festival. The Argungu festival was first celebrated as a big event in 1934, when it was staged to mark the visit of the Sultan of Sokoto, Mallam Hassan Dan Muazu to Argungu. Hitherto, it was an irregular get-together of local fishermen residing in the vicinity of the fishing site of Argungu. Today, it is celebrated with a lot of pomp attracting people from both inside and outside the country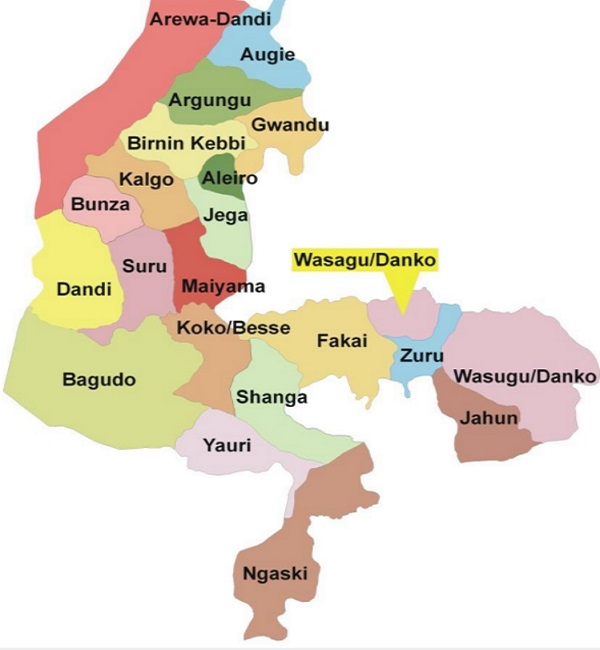 Local Governments
Aleiro
Arewa-Dandi
Argungu
Augie
Bagudo
Birnin Kebbi
Bunza

Dandi
Fakai
Gwandu
Jega
Kalgo
Koko/Besse
Maiyama

Ngaski
Sakaba
Shanga
Suru
Wasagu/Danko
Yauri
Zuru