Map of Niger State
Executive Governor
Mohammed Umar Bago
Coat of Arms
Official Website: http://www.nigerstate.gov.ng
Population: 3,950,249 (2006 Estimate) Alias: The Power State
Chief Judge:: Justice Maria Zukogi.
Speaker, House of Assembly: Rt. Hon. Abdullahi Wuse (APC)
GENERAL INFORMATION
Niger State was created the then North Western State on 3rd February, 1976 by the then regime of General Murtala Mohammed. It has Minna as it's capital. Other major cities are Bida, Kontagora, and Suleja.
Located in the Middle Belt of Nigeria, Niger State covers 76,363 square kilometres. It is the largest Nigerian state by land area.
The state has a small majority of Muslims. The state is named for the River Niger. Two of Nigeria's major hydroelectric power stations are located in Niger State: the Kainji dam and the Shiroro dam. Kainji National Park is also situated in Niger State. It contains the lake formed by the Kainji dam. It is the largest National Park of Nigeria, but a lot of the wildlife has disappeared.
Niger State shares boundaries with Kaduna State and Federal Capital Territory, Abuja States in the East and South-East respectively, Kebbi and Zamfara in the North, Kwara and Kogi States in the South and Benin Republic in the East.
The areas making up Niger State today comprised the old Nupe and Kontogora Kingdos, Abuja (now Suleja) with link to the famous kingdom of Zauzau and a host of other political entities. The old Nupe Kingdom today has been broken administratively into the Bida Emirate (encompassing Gbako and Lavun Local Government areas) and the Agaie and Lapai emirates.
Similarly, old Kontagora now comprises Kontagora emirates within which there are the chiefdom of Wushish, the territories of Sarkin Bauchi and the Chiefdom of Kagara, all administratively grouped into the Mariga, Magama and Rafi Local Governments.
ECONOMY
Generally, agricultural activities form the mainstay of the people's economy and engage directly or indirectly more than 80 percent of the population.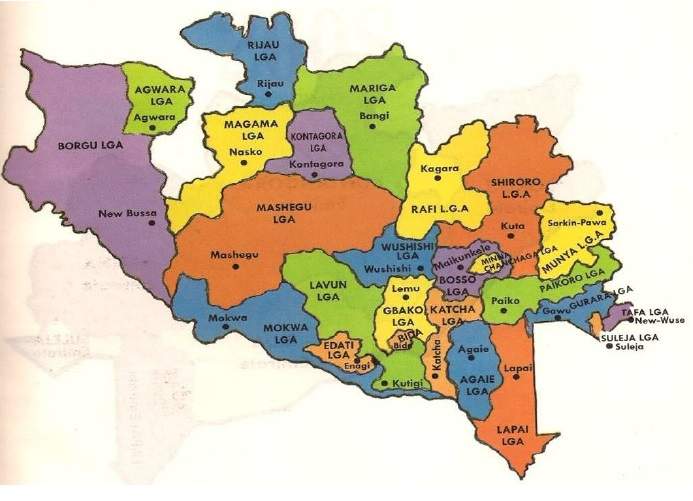 Local Governments
Agaie
Agwara
Bida
Borgu
Bosso
Chanchaga
Edati
Gbako
Gurara

Katcha
Kontagora
Lapai
Lavun
Magama
Mariga
Mashegu
Mokwa

Muya
Pailoro
Rafi
Rijau
Shiroro
Suleja
Tafa
Wushishi