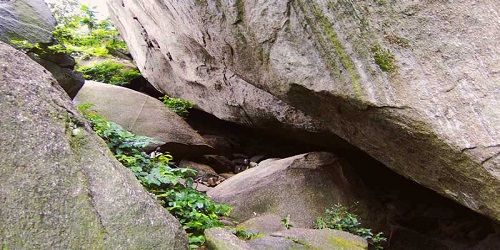 In 1922, Chief Obele, an hunter, during one of his hunting expeditions chanced upon the elusive cave and broken pottery works scattered all over its vicinity. He returned back to the people of Isarun (descendants of the Iloro people) and broke the news of his discovery to the traditional ruler. He was officially accorded the rediscovery of Iho-Eleeru Cave, located in Isarun, Ondo State, Nigeria.
Although, during a recent visit to the cave, Obele was still alive, he couldn't speak again as a result of old age and its related ailments. Obele's finding is termed rediscovery because evidences that the rock had earlier on accommodated human habitation abound. The cave has also played a significant role in the archeological history of West Africa. In 1968, Professor Thurstan Shaw of the then University of Ile-Ife, now Obafemi Awolowo University (OAU), conducted an intensive and extensive research and exploration on the site, and excavated the remains of a Homo Sapiens skeleton which was buried in a standing position, holding a pot with sixteen inlets. The skeleton dated back to as early as 9200BC.
The pottery works excavated from the cave site dated back to 1000BC. The findings of Professor Shaw was published in his book, HISTORY OF WEST AFRICAN ARCHEOLOGY, Vol 1.Iho Eleeru was officially recognised as a tourist attraction in 1992. Presently, the cave and its surroundings are still very much in a pristine state and has numerous potentials for archaeology, history and tourism if properly and creatively harnessed. Still buried within the silt sands flooring the cave are hundreds of left over potsherds, cutting tools (flints) used by ancient man who dwelt at the cave as well as congealed reddish material used as paint by prehistoric man (the Yoruba people call it "apaparobo").
Also, on one of the big rocks surrounding the cave, a long Ifa inscription is engraved which bears similarity with the one found at Old Oke-Idanre (known as "adiye kowe oyinbo kaati" inscription).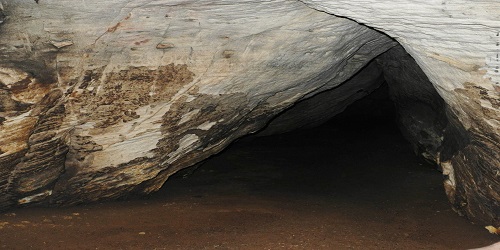 It was once said that the Ondo State government was making plans to provide the location with good tourist facilities to cater for the needs of future visitors at the cave; and that the State Tourism board was also planning to employ the services of traditionalists who are well versed in Ifa mythology to interpret the divination engraved on one of the rocks earlier mentioned.
Isarun village is about 20minutes drive from Akure (State capital), and can be easily accessed from the Akure-Ilesha Expressway. The cave itself is a about 40 minutes bike ride from Isarun village.
Located in a thick forest, more or less left in its natural form, rocks of different sizes and peculiarities surround this cave, one of which has engravings that locals believe to be Ifa oracle's divination. This site is essentially an untapped tourist attraction around Akure.