Map of Borno State
Executive Governor
Babagana Zulum
Coat of Arms
Official Website: http://www.bornostate.gov.ng
Population: 4,098,391 (2006 Estimate) Alias: Home of Peace
Chief Judge:: Justice Kashim Zannah.
Speaker, House of Assembly: Rt. Hon. Abdulkarim Lawan
GENERAL INFORMATION
Borno State was created formed in February 3, 1976 by the Murtala Mohamed out of the then North-Eastern State. Until August 1991, it contained what is now Yobe State. It's capital is Maiduguri.
Located in the North Eastern corner of Nigeria, Borno State occupies 70,898 square kilometres. Borno State occupies the greater part of the Chad Basin. Borno state shares borders with the Republics of Niger to the North, Chad to the North-East and Cameroun to the East.
Within Nigeria, Borno State shares boundaries with Adamawa State to the South, Gombe State to the West and Yobe State to the North-West.
Borno state derives it's name from the ancient Borno empire. The state is dominated by the Kanuri ethnic group, and is an example of the endurance of traditional political institutions in some areas of Africa. There, the emirs of the former Kanem-Bornu Empire have played a part in the politics of this area for nearly 1000 years.
ECONOMY
Agriculture is the main stay of the Borno economy.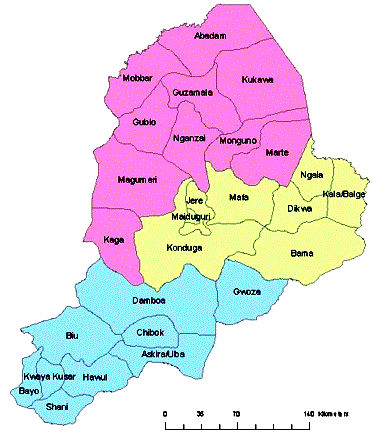 Local Governments
Abadam
Askira/Uba
Bama
Bayo
Biu
Chibok
Damboa
Dikwa
Gubio

Guzamala
Gwoza
Hawul
Jere
Kaga
Kala/Balge
Konduga
Kukawa
Kwaya Kusar

Mafa
Magumeri
Maiduguri
Marte
Mobbar
Monguno
Ngala
Nganzai
Shani