Map of Ebonyi State
Executive Governor
Francis Nwifuru
Coat of Arms
Official Website: http://www.ebonyistate.gov.ng
Population: 2,173,501 (2006 Estimate) Alias: Salt of the Nation
Chief Judge:: Justice Theresa Uzoamaka Uzokwe.
Speaker, House of Assembly: Rt. Hon. Chikwendu Kalu
LIST OF GOVERNORS OF EBONYI STATE
| | | | |
| --- | --- | --- | --- |
| S. No | Name | Took Office | Left Office |
| 1 | Walter Feghabo | October 1996 | August 1998 |
| 2 | Simeon Oduoye | August 1998 | May 1999 |
| 3 | Sam Egwu | May 1999 | May 2007 |
| 4 | Martin Elechi | May 2007 | May 2015 |
| 5 | Dave Umahi | May 2015 | - |
GENERAL INFORMATION
Ebonyi State was created out of former Abia and Enugu states on October 1st 1996 by the then General Sanni Abacha regime.
Ebonyi State, an inland south-eastern state of Nigeria covers 5,530 square kilometres and is populated primarily by Igbos. Its capital and largest city is Abakaliki. Afikpo is the second largest city. Other major towns are EDDA, Onueke, Nkalagu, Uburu, Onicha, Ishiagu, Amasiri and Okposi. Ebonyi was created from the of old Abakaliki division of Enugu State and old Afikpo division of Abia State.
Ebonyi State is bounded to the north by Benue State, the west by Enugu State, to the south by Imo and Abia States and to the east by Cross River State.
ECONOMY
Agriculture is the major occupation of the people of the state. The crops produced are yam, cassava, plantain, banana, maize, cocoyam. Others are palm produce, cocoa and rubber. It is a leading producer of rice, yams, potatoes, maize, beans and cassava. Rice and Yams are predominantly cultivated in EDDA. Ebonyi also has several solid mineral resources, but little large-scale commercial mining. The state government has however given several incentives to investors in the agro-allied sector. Ebonyi is called "the salt of the nation" for its huge salt deposit at the Okposi and Uburu Salt Lakes.
Mineral resources in the state include salt which is mined locally in the Uburu/Okposi salt lakes of Ohaozara. There are some industries in the state which engage in production of plastic and block and food processing.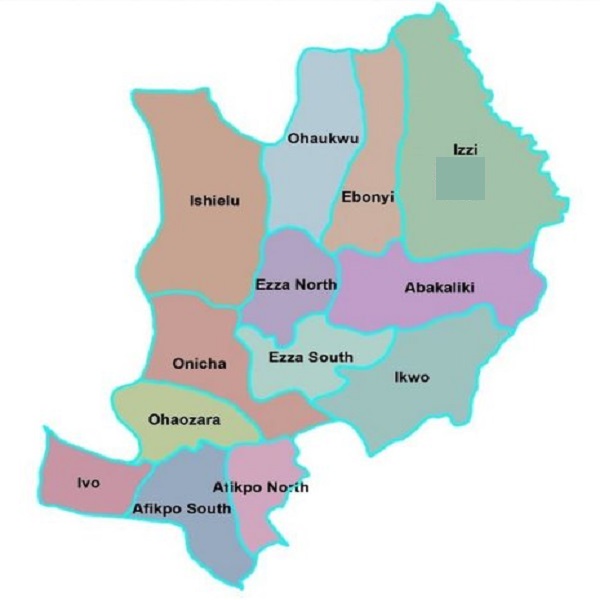 Local Governments
Abakaliki
Afikpo South
Afikpo North
Onicha

Ohaozara
Ishielu
lkwo
Ezza

Ezza South
Ohaukwu
Ebonyi
Ivo