Map of Jigawa State
Executive Governor
Malam Umar A. Namadi
Coat of Arms
Official Website: http://www.jigawastate.gov.ng
Population: 4,348,649 (2006 Estimate) Alias: The New World
Chief Judge:: Justice Aminu Sabo.
Speaker, House of Assembly: Rt. Hon. Isa Idris.
GENERAL INFORMATION
Jigawa State was created 27th AUgust 1991 from Kano State by the then regime of General Ibrahim Babangida. Its capital is Dutse.
Situated in central northern Nigeria, Jigawa State covers 23,154 square kilometres and lies between Latitudes 11.00oN to 13.00oN and Longitudes 8.00oE to 10.15oE. Jigawa State shares a common border with Kano and Katsina States to the west, Bauchi State to the south east, Yobe State to the and Republic of Niger to the north.
Jigawa topography is generally characterized by undulating land, with sand dunes of various sizes spanning several kilometres in parts of the State. The southern part of Jigawa comprises the Basement Complex while the northeast is made up of sedimentary rocks of the Chad Formation. The main rivers are Hadejia, Kafin Hausa and Iggi Rivers with a number of tributaries feeding extensive marshlands in north-eastern part of the State. Hadejia - Kafin Hausa River traverses the State from west to east through the Hadejia-Nguru wetlands and empties into Lake Chad Basin.
Most parts of the State lie within the Sudan Savannah with elements of Guinea Savannah in the southern part. Total forest cover in the State is very much below national average of 14.8%. Due to both natural and human factors, forest cover is being depleted, making northern part of the State highly vulnerable to desert encroachment.
The State enjoys vast fertile arable land to which almost all tropical crops could adapt, thus constituting one of its highly prized natural resources. The Sudan Savannah vegetation zone is also made up of vast grazing lands suitable for livestock production.
Hausa/Fulani found in all parts of the State. Kanuri are largely found in Hadejia Emirate, with some traces of Badawa mainly in its Northeastern parts. Even though each of the three dominant tribes have continued to maintain its ethnic identity, Islam and a long history of inter-marriages have continued to bind them together.
ECONOMY
The Economy of Jigawa State is largely characterized by informal sector activities with agriculture as the major economic activity. Over 80% of the population is engaged in subsistence farming and animal husbandry. Trade and commerce are undertaken on small and medium scale, especially in agric goods, livestock and other consumer goods. Other informal sector activities include blacksmithing, leather-works, tailoring services, auto repairs, metal works, carpentry, tanning, dyeing, food processing, masonry etc. Even though modern industrial sector is yet to gain a solid footing, the seed for their development was planted through establishment of small-scale industries particularly in areas of food processing and other agro-allied activities.
There are industrial enterprises in the state and these industries operate mostly with raw materials produced locally. These are in form of agriculture and livestock.
With an international border to the north, the opportunity for cross-border trading activities was taken advantage of by the government by initiating and establishing a Free-Trade Zone at the Border town of Maigatari.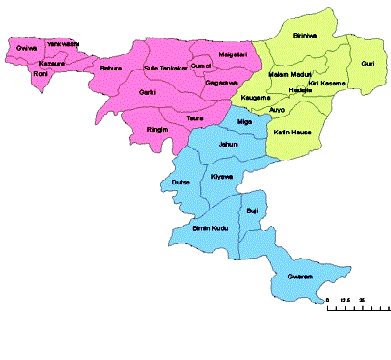 Local Governments
Auyo
Babura
Birni Kudu
Biriniwa
Buji
Dutse
Gagarawa
Garki
Gumel

Guri
Gwaram
Gwiwa
Hadejia
Jahun
Kafin Hausa
Kaugama Kazaure
Kiri Kasamma
Kiyawa

Maigatari
Malam Madori
Miga
Ringim
Roni
Sule-Tankarkar
Taura
Yankwashi