Map of Nasarawa State
Executive Governor
Engr. Abdullahi Sule
Coat of Arms
Official Website: http://www.nasarawastate.gov.ng
Population: 1,863,275 (2006 Estimate) Alias: Home of Solid Minerals
Chief Judge:: Justice Suleiman Dikko .
Speaker, House of Assembly: Rt. Hon. Ibrahim Balarabe-Abdullahi
GENERAL INFORMATION
Nasarawa was created out of Plateau State on October 1, 1996 by the then regime of General Sani Abacha. It's capital is Lafia.
Located in north central Nigeria, Nasarawa State covers 27,117 square kilometres. Nasarawa state is bounded on the north by Kaduna State, on the South by Benue State, on the East by Plateau & Taraba States, while on the West by The Federal Capital Territory & Kogi State.
The state is composed of different ethnic groups each with its own distinct local dialect but Hausa is common among the people.
ECONOMY
Farming is the main occupation of the people of the state. It provides food as well as income. Crops produced include cassava, yam, rice, maize, guinea corn, beans, soya beans, beniseed, asha, and millet.
The state also has precious mineral deposits like columbite, a major input in the production of steel; coal, an energy source; and acqymarine, a substance used in the production of jewelries.
TOURISM
Nasarawa state is a pot pourri of tourist attractions with array of hills and rocks that dot the state's landscape.
On top of any of these natural edifice, tourists are offered a wonderful spectacle of the state. Among these Rocks and Hills are
- the famous Mada Hills and Rukubi Hills, both at Akwanga,
- Ava and Eggon Hills at Nasarawa,
- Captain Maloney Hills at Keffi, and
- Efugogiri Hills at Doma,
- Numa Rock, Akwanga, and
- Mail Rumba Rock, Doma.
Other exciting places are Keana Salt Processing centre, Hunku lake, Akuriwari warm spring and crocodile lake, Gizar (all at Akwanga), Doka-gide Ria at Doma, Tunga Nupawa lake, Assakio, Natural springwater at lafia and Ogani fishing water at Oto local government.
The young state is richly endowed with scenic beauty, and conspicuous features. Its temperate climate makes it a tourist centre. Lafia the state capital has an enviable weather with a fascinating rocky environment.
Nasarawa has many cultural festivals. Among these festivals are Odu, Amiri, Sharo (Fulani), Omadegye annual festival, Awuma dance, Oguh dance, Gbagyi Gbogum, Oyarere, etc.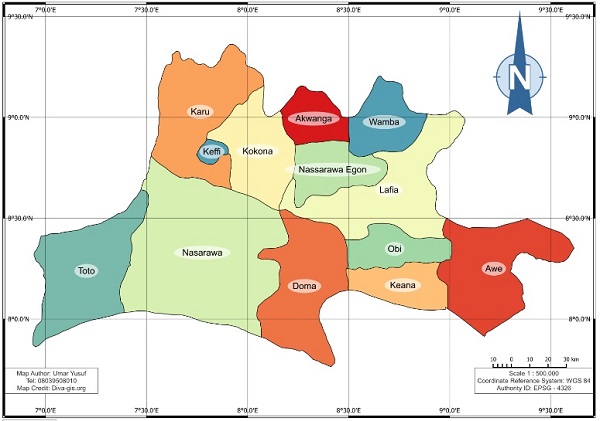 Local Governments
Akwanga
Awe
Doma
Karu
Keana

Keffi
Kokona
Lafia
Nasarawa

Nasarawa-Eggon
Obi
Toto
Wamba